10 Common Youtube Video Settings Explained
Do you have a Youtube video channel? If not, then you might not want to read this post as we are going to explain 10 common settings for Youtuber's who wants to optimised there broadcasting and sharing options.
1. Youtube Privacy Settings

It have three options to make your video Public (anyone can search for and view), Unlisted (anyone with the shared link can view the video) Learn more and Private (only people you choose can view)
2. Youtube Video Sharing License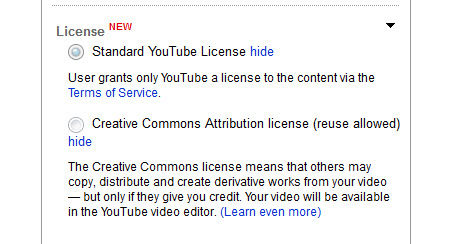 You can share Youtube videos under two License options. First is normal YouTube License which follows general tos of Youtube and another is Creative Commons Attribution license (reuse allowed)
3. Youtube Video comments


Youtube video comments have four options. You can normally allow all the comments automatically, Only Allow friends' to comments automatically, all others with approval only, Allow all the Youtube video comments with approval only or simple do not allow comments on video.
4. Voting on comments


It is simple either you can allow voting on comments or don't allow!
5. Video responses


Video responses are the videos in the reply options of your videos. Either you can allow video responses to be added automatically or make them after your approval. Later one is recommended in all the cases!
You can also choose not to allow any video responses for your Youtube videos!
6. Video Rating

Video rating is something similar to five star ratings. Either you can allow your video to be rated by others or don't allow!
7. Youtube View Count


Youtube video counts are the default stats appearing at the lower right bottom of your player. Either show them or hide them.
8. Video Embedding Option

Video embedding is something through which you are able to share the videos on sites in html form. If have two options, either allow external sites to embed and play the video or don't allow them.
9. Video Syndication Option


Youtube video syndication option are for different devices like mobile, TV(like Smart TV box or Samsung smart TV) or PC. Either you can allow to make the video available on mobile phones and TV or don't allow it for mobile and TV.
10. Video Advertising Option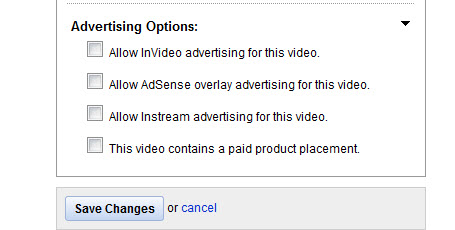 This options are are useful for heavy video producers or Youtubers having traffic on there channels. With the help of this one can allow custom ads (like adsense) on your videos. It have following options:
1. Allow InVideo advertising for this video.
2. Allow AdSense overlay advertising for this video.
3. Allow Instream advertising for this video.
4. This video contains a paid product placement.
Almost 70% of Youtube users generally ignore the above settings. If you are not a regular Youtuber then you should avoid using Ads on videos. You always allow Youtube embedding option unless and an until you don't want to get the benefits of Youtube vitality. If you are unable to understand the Creative Commons Attribution license then you should go for general license.