Top 20 Great Social Bookmarking Service, Boost Your Site Traffic
On internet social bookmarking brings link sharing experiences, when you like any websites you can bookmark it socially and share with your other friends.Their are many reasons why Content Strategy matters but if you talks about website traffic then their are many ways to increase the website traffic and social bookmarking plays a vital role in creating buzz in the chained social networks.If you read 20 easy ways to increase website traffic then you will get to know about some other hidden facts to boost the site traffic. Maximum social bookmarking site has features to organize your shared links greatly and as well social tagging it brings more friendly results. When you need to find your previous marked links, search on tags. That's it.
Thousands of website pop-up over a night, just by getting high traffic from social bookmarking site. Even some site's main target to get in top position by ranks or by vote,  in social bookmarking site. It's recommending by social experts that, everyone should use social bookmarks and social bookmarking site are so search engine friendly. So, easily search crawl your site through social sites and when any search query done by user, the search engine might send the visitor to you and you're just start to getting traffic.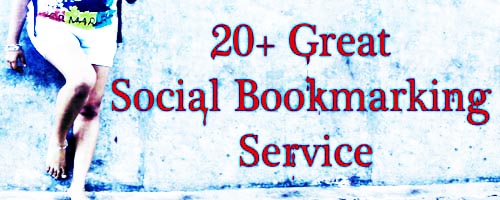 In below, we are trying to sort out, a collection of social bookmarking services on web. Still, their is no way available thus you can ping to all social networks at the same time. You can social engage yourself manually and if the system is automated, you might be get spam more then better things. Normally, we only know some top rated social bookmarking sites such as, Digg, Delicious, Reddit, Stumbleupon — though lots of social bookmarking site exist on web.
Delicious

Delicious introduced, one click bookmarking service. When you're visiting or staying any site, you need to social share or wants to bookmarks, just do it by one click. It has plugins for browsers, when you're installed, you will get options to do that and later on you can find your all bookmarked in once place. Make sure they you're signup to their service, and it's free.
Digg

The world famous social bookmarking site and hundreds of social bookmarking site's trying to compete with them. When you're sharing links socially, make sure that your site has high traffic spikes resolving capability, sometimes it will down your site. You can be a free member and share your links and it will verify it and summit your contents. Other user can "dugg", make comments and reports against your shared links. As well, it has web tools and working in third party web tools and lots of features and customization available.
Diigo

Diggo is a powerful research tool and a knowledge sharing social community where you can share links socially. And it's brings more spice on social bookmarks such as, you can create sticky notes, your tags will be visible on main page, other user can bookmark the same things, the amount of bookmarks, how many times your link has visited and in details stats available. So, socially boosting your site.
Faves

One of the smart social bookmarking site. By one click "Fave It" you can share your links share with others. It's providing social faves toolbar to do this. You can join and get lots people from different places. If you any favorite topics, you can follow your interest users and get updated what they are sharing socially.
Furl

Furl is a social bookmarking site that makes it easy to save, share, and explore favorite web pages. Officially, Furl team says, "Furl is now part of Diigo. Go here for information on how to transfer your account @furl. In before I have experiences with furl and the previous furl was slick and smooth. We don't know why the stopped and redirecting.
Ma.gnolia

It was one of the greatest social bookmarking service but someone it goes down for being server cash and they lost all of their data and if you're on of them, you can try recovery ma.gnolia methods.
My Web

My Web social bookmarking site which is providing Yahoo Inc. To get acces, you need an yahoo email accounts and anytime you can bookmark and they have browser tools, then by one click you can access anywhere. As well, you can share with your friends or contact list. You can crate folder, add, edit, delete features are so great and easier navigation system.
Mister Wong
Social networking site but at beggning they are feqeuntly mailing to the user, just like spamming through the email account.  It might be email marketing but should have some strategy. Now they are social bookmarking service. But, they says "Mister Wong helps you save all of your favorite websites to your personal account, so you have access to them online, no matter where you are." The site is so growing and getting high traffic and the main their main focus on social bookmarking service for free.
Mixx
Mixx blending your web experiences and you will get most interesting topics which is sharing by the mixx users. By categorizing, a user can get specific information from mixx. Mixx has news, business, entertainment, sports, life, tech, and so on pages – just click on grab what's happening today. Also, you can submit your contents and have to self the most relevant catagory for the visibility on mixx's main page. d
MSDN (Microsoft Developer Network)

Another one social bookmarking site which is run by Microsoft. It's specially for Microsoft developer networks. Socially the developers sharing updates through MSDN. You can get updates of web development, windows development, office development, tools, languages development and so on. d
Newsvine

Newsvine doing two things, social bookmarking and casting user generated news . When you're signup to their service, you have options to social bookmarking service for free and from anywhere you share your contents and that will be visible in main page on basis of your category selection.
Oneview

Totally user based social bookmarking service and I found on subtitle "human powered search". It has similarity with delicious and you can get free acount and start using this free social bookmarking service.
Propeller

Fatest, friendly growing social bookmarking service and has great similiartiy with Digg and like as Digg you can "Drop It" or "Prop It". You can read, share, discuss, catagories selection, to search information and to track any specific events by rss feed.
Reddit

What's Hot? Socially which news it hot today, you can grab that through reddit social bookmarking site. It's inside 1K in rank and whenever you wants, you can share links with others. You can get free accounts and submit your contents free too and lots of catagory  it has and slick design driven your steps so smoothly.
Simpy

Slick, smooth social bookmarking site, it says "Simpy is a social bookmarking service that lets you save, tag, search and share your bookmarks, notes, groups and more.". It they said, you will more then that. It's simple but working so great and I like it too much and specially page loading time is less then any other social site.
StumbleUpon

After the Digg social bookmarking site, we can say it's in second position. Stumbleupon one of the top rated social bookmarking site and it has group features too. You can get a free account and web browser tools or extensions for free. By one click, you can bookmark any websites. When you're bookmarked, it will show your bookmark show cases and make it public or private. People can make comments or ping you. Also you will get profile options and grow your networks and you might receive traffic spikes from it.
Stumpedia

Another one social networks, which is totally real time. When you're bookmarked, it will be visible for few seconds to the main page. It says, "a social search engine that relies on human participation to index, organize, and review the world wide web."
TechNet (Microsoft TechNet)
Microsoft has social bookmaking service for IT Professionals and so resourceful information gathering everyday and totally user generated. Choose categories and start to tracking what people sharing and as well you can do the same things but you have become a subscribers.
Balatarin

A web community and social bookmarking service based on Persian. It's registration is free and any user can share their links and usually other user can votes too and the working flow has similarity with reddit, digg, newsvine and delicious.
BookmarkSync

Like as other social bookmarking site, it's working bit differently. It has auto synchronization and that will access user public bookmarks and it actually has small desktop client, which working in Cross platform and after the installation it will stay in system tray and will monitor your bookmarks.
Connotea
The main audience of this social bookmarking site, who has involvement with scientific research types work. A user can share his scientific information's share through this social sites and even it can be academic papers, thesis, specific development tools. So, specifically it's a great place to see "what scientist are doing"
CiteULike

When you're sharing information, you can organize or discover other information too in this networks. It has some good features, such as save and organize, share as references, easy access from any computer, one click share, easy to use and much more things.
Buzzup

Buzzup, is another social bookmarking service that allows its users to submit an article/news/blog-post/stories that will be reviewed by all and will be promoted, based on popularity, to the main page.Just like other social service you can buzzup your post via different addons tools like twitter.The main difference in Buzzup from other service is the features like when a user submits a news article it will be placed in the "unpublished" area until it gains sufficient votes to be promoted to the main page.
Social Bookmarking is useful only when you are using it effectively rather than spamming the network.No doubt people will hate you if you flood you friends with your links rather than providing the quality contents.Always mind that your main motive should be "quality" and ask a simple question to yourself "Do you really like the links,you are sharing with your friends?".Last but not least always analyze the traffic logs to check the effectiveness of social bookmarking on the traffic of your website.This will slowly slowly guide and teach you about the behavior of the network on the nature of the contents.
Note:If you have any other tips regarding social bookmarking or website traffic then feel free to share them here.