20+ Popular Video Sharing Websites
HTML clipboard Video sharing websites which enabled on internet that a user can share video through a networks and millions of user can watch the video and as well they can share their video too. In the meantime, some people creating brands of their company, some are making entertainment, some are advertising of their products.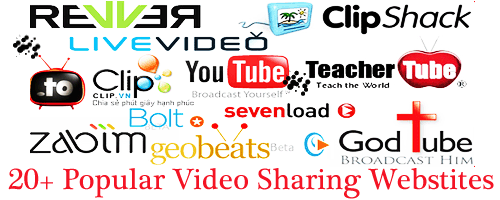 Hundreds of video sharing site, so a great competition going on and some company giving free of charge service and for better performance some paid services. Both public and private video sharing websites exist on web and now most probably every video sharing website's video generate by users and usually we only know, youtube video sharing site, google video sharing websites better identity. And in present web, some are growing, giving better service and engaging millions of users to share video through their websites.
VideoEgg —

VideoEgg engaging rich advertising networks through video sharing site. They giving guarantees about brand management and they says, "Our network consists of over 100 million unique across hundreds of leading sites, blogs, and gaming sites, as well as social and mobile applications". When you're going to target your audience, you have to reach to them and this company will show you that media thus you can establish your brands.
Vimeo —


Quality,Creativity and Community is three words dedicated for the vimeo.It consist of high quality tools to provide innovative creations in your shared videos for all the network community.

Dailymotion –

Online video, movie, music sharing websites where you will get both free and paid accounts. But, you will be satisfied to using their service and it's really awesome that dividing topics as cluster and easy to see the top video from different portions and by one click you can move to that networks and watch the video.
YouTube –

One of the largest and most popular video sharing websites Youtube. It was acquired Google Inc. It has tons of features and extremely super then any other video sharing site. It says, "broadcast yourself". You have made a small documentary, why don't share on youtube. In this year, they enabled high definition video sharing options. As well, you can embed your video somewhere else. You can promote your comapnies by youtube and lots of websites doing such things and it's video marking era.
Veoh –

San Diego based company which is providing internet television service and user have options to watch contents, independent production and user can generate video too. This site is super smooth and a great competitor of youtube. Nowadays, people embedding video of veoh to their site and it's looks so slick and smooth.
Google Video –

Another one great video sharing websites, all of the video generating by user. If you have an gmail account, you can upload your video files to Google video engine. Lately, you can mail to your all friends, share your video experiences with others. As well, you can embed your video somewhere else and also it's showing lots of status.
Grouper —


Grouper now moves in crackle. When the relationship matter (on linkedin), why video sharing is not a matter, it's matter too. By concentrating on that area, you can see movies, television and in that site. However, I don't this service specially.

Jumpcut —

Jumpcut still on beta version and an growing video sharing site. It says, "If you've been wondering what to do with the video you shoot with your snazzy new camera (or your phone), Jumpcut is the perfect place for you to be creative. If video isn't your thing just yet and you just want to make cool slideshows with your pictures, Jumpcut is still the best place." But, in some reasons, they are going down for ever and they trying to engage people with flickr video sharing site. But, on Jumpcut you will get best videos and easy to share.
Blip.tv

An smart and super video sharing websites, which looks still in beta version but it's giving smooth experiences to their users and right now rank inside 2K.You have to signup yourself, you will get options to manage your video, upload video and as well they have big community where millions of user engaging for the same purpose.
AOL UnCut

AOL started their video sharing business, now they moved to motionbox. If you're looking outstanding video, you can try their service. Quick, easy, and reliable, Motionbox is a secure place to share, edit, and store personal videos. It doesn't matter how long they are or how many videos you have. — they explains.
Eyespot

If you wants they your video will belongs with you, they you can try their service. Eyespot explains, "We make producing high-impact, broadcast-quality video easy and affordable. Choose the option that fits your need and budget." So, if you really nice you can tell or contact with them, create your video and broadcast high quality video and as well do your promotion attempts through video and it's great to do branding.
Fliqz

When you need to host your video, you can communicate with this service. They are doing business to attracts video, engages user and coverts. With reasonable price, you can buy their packages and start to hosing your video securely.
Guba

Fastest growing video sharing site. When a user can signup, share and watch videos in this networks. It's managing lots of categories that let's you help to see the video on their site. Even you can search video too.
Openvlog

By using this service, you can record, upload, share your video files. It's simple and slick to use for video share and Emily Chang has published about it.
Revver

Revver it's online video sharing websites. Which engaging millions of users. It's providing free, unlimited storage for video share.When you will share video, they will share revenue with you. That means, by sharing video, you can earn money too.
ManiaTV

Online video sharing site but the purpose of video sharing site is to broadcast television through internet, just like as Voeh video sharing site.
ClipShack

Just like as other video sharing site, you can share too. You can surf video on basis of most watched video clips, most discussed video and so on features available. Make sure that you're going to signup, when you have done tons of options will be available free of cost.
Motionbox

This site providing high definition video for the users. It says, "Quick, easy, and reliable, Motion box is a secure place to share, edit, and store personal videos. It doesn't matter how long they are or how many videos you have."
Eefoof.com
A community where people can share video, music, audio files. And it has engagement with profit sharing. When you're casting video to their site, you will get paid for that. As much as you generate, you will be paid and if you're interesting user, of-course you will be benefited.
MySpace Video

One of the world's most popular video sharing websites. It says, "MySpace Video – Watch & Share Videos, Video Clips, Music Videos, TV Show Video & Movie Trailers Online". If you have myspace account, you can get all of this features. By selecting category or inputting query in search engine. You can grab video instantly.
Sharkle

A video sharing site where user generating video and easy to share your video with the whole world. This site has great web navigation features and the popular tag features help to find your desired topic based video from the server. It's totally free and anyone can signup and start to share video.
Note: Feel free to share other video sharing sites with us.