30 Best iPhone Applications
There has been lot of buzz around the mobile phone market about who is better – Blackberry, Symbian, Window Mobile, Android or iPhone. But so iPhones have been leading at least when you talk about best applications. iPhone today has the largest market and huge fan following. The most excellent thing is that it has a single store – AppStore – that makes it simple to search and competently buy from user's perspective. Developers' products have a superior chance of being found suitably by the customers. But the issue here is that the number of apps popping up daily keeps the users confused on what to get and what not. At present, we have surprising 300 new applications being released each day. How does the average iPhone user find the gems in this deluge? So we at honeytechblog pulled out top 30 iPhone applications which are worth your time and money. We have already seen best Window Mobile Applications, best Blackberry Mobile Applications and , now our interest is towards best iPhone apps.
The Amazon Mobile app allows iPhone, iPad and iPod touch owners to very quickly search, shop, compare prices, read reviews, and make purchases on Amazon.com using a simple, yet elegant, interface. Amazon customers have full access to their existing cart, wish lists, payment and shipping options, order history, 1-Click (R) settings, and Prime membership benefits. All purchases made on Amazon Mobile are routed through Amazon's secure servers just as they are on the web. All prices are in US Dollars.
2. Facebook
Facebook for iPhone makes it easy to stay connected and share information with friends. Use your iPhone to start a conversation with Facebook Chat, check your friends' latest photos and status updates, look up a phone number, or upload your own mobile photos to Facebook while on the go.
3. TweetDeck
TweetDeck is your mobile browser for staying in touch with what's happening now on Twitter from your iPhone or iPod Touch. TweetDeck shows you everything you want to see at once, so you can stay organised and up to date no matter where you are.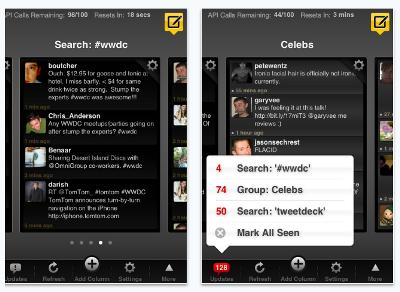 4. Evernote
Evernote turns the iPhone, iPod Touch and iPad into an extension of your brain, helping you remember anything and everything that happens in your life. From notes to ideas to snapshots to recordings, put it all into Evernote and watch as it instantly synchronizes from your iPhone to your Mac or Windows desktop.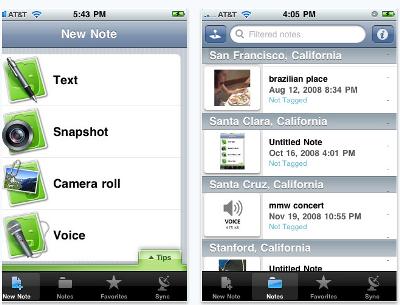 5. AIM
Chat with your Facebook friends on AIM for iPhone, even if they're not AIM users. To get started, just click Facebook Connect button at the top of the AIM Buddy List. Your Facebook friends and groups will be added to your Buddy List (with the Facebook icon next to their name). Now chatting with your Facebook friends is as easy as using AIM.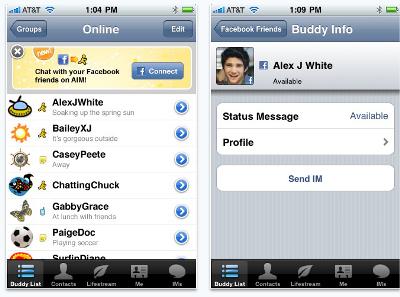 6. Google Earth
Hold the world in the palm of your hand. With Google Earth for iPhone and iPod touch, you can fly to far corners of the planet with just the swipe of a finger. Explore the same global satellite and aerial imagery available in the desktop version of Google Earth, including high-resolution imagery for over half of the world's population and a third of the world's land mass.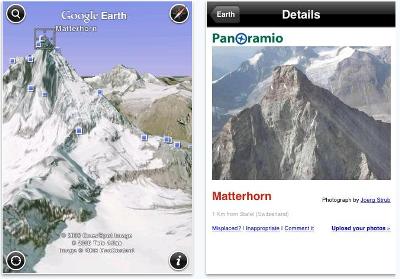 Birthday Reminder delivers what's missing in the iPhone OS since its introduction: getting notified of upcoming birthdays! Birthday Reminder warns you of upcoming birthdays through email notifications. You can even configure how many days in advance you want to be notified so you still have time to get a present.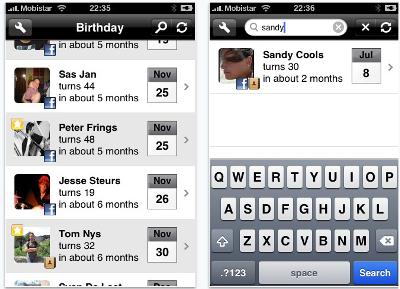 Yahoo! Messenger app allows you to IM friends and family right from your iPhone, iPod Touch or iPad wherever you are. Instant message with your Yahoo! Messenger & Windows Live Messenger contacts wherever you are.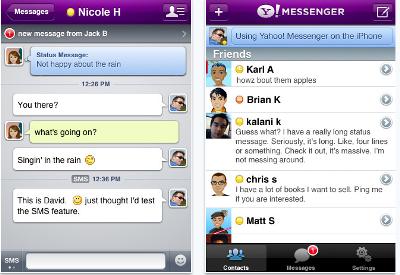 9. Last.fm
Listen to more than 5 million tracks for free with Last.fm on your iPhone. Create personal radio stations based on any artist or genres, and listen to commercial free music for hours. With Last.fm on the iPhone you can also check out artist bios and concert information and share your favorite tracks with your friends using the iPhone contact list.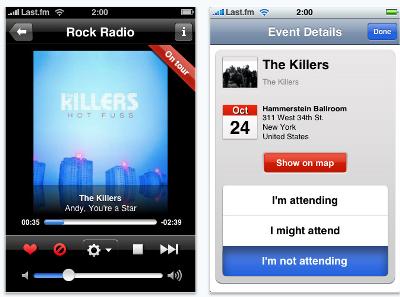 10. Bento
It's never been easier to organize all the details of your busy life – in one iPhone application! Meet Bento® for iPhone and iPod touch, the portable version of the wildly popular personal database from FileMaker® that's as easy to use as your iPhone! Manage contacts and club members, coordinate projects and parties – even track vet bills and vehicle maintenance in one, easy-to-use application.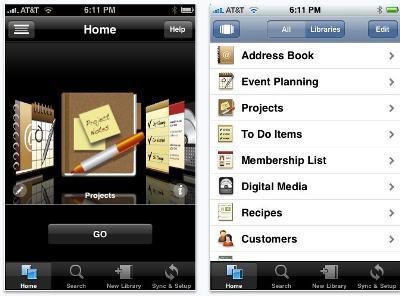 Search Google quickly using your voice and your location. Search by voice – speak your queries in American, British, Indian or Australian English accents, also supports Mandarin Chinese and Japanese. Just talk – simply hold your iPhone to your ear and say your query.
12. Fring
Fring is a multi-award winning mobile application that lets you make free voice calls, free video calls (one way) and live IM chats directly from your iPhone and iPod touch. Communicate with your friends from fring and other favorite social services including MSN® Messenger, GoogleTalk™, Twitter, Yahoo! ™, AIM®, ICQ, all through one central profile, using your iPhone and iPod touch's internet capability.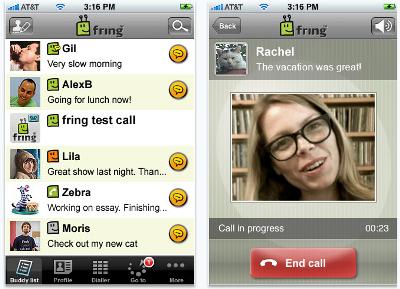 Hey Where Are You, or HeyWAY, is a new location service that lets you keep track of where friends, family and colleagues are. Send alerts with your current location to your followers, or send "Hey, Where Are You?" alerts requesting their location.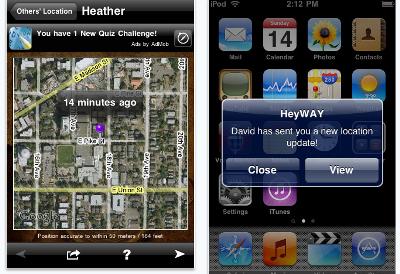 14. iTranslate
A universal TRANSLATOR, for your iPhone! Translate words and even whole sentences into 52 languages. You can also iTranslate with 43 voices in 16 languages. In addition you get better translation quality through smart auto correction, auto capitalization tricks and lot more.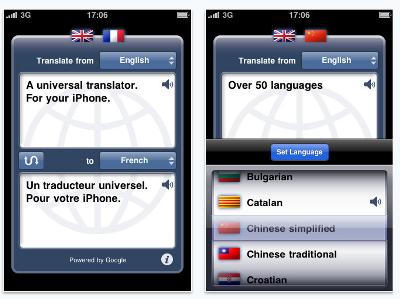 15. SoundHound
What's that song? Who's that hot artist? SoundHound knows. And now, everyone can enjoy a free taste of the famous SoundHound instant music search and discovery app. SoundHound can name a song playing from a speaker in just four seconds – and it can even work if you sing or hum. Instant sharing over email, Facebook, or Twitter
16. Skype
With Skype on your iPhone or iPod touch you can call and instant message anyone else on Skype for free. You can also call landlines and mobiles and send SMS anywhere in the world, at great rates. Skype is free to download and easy to use.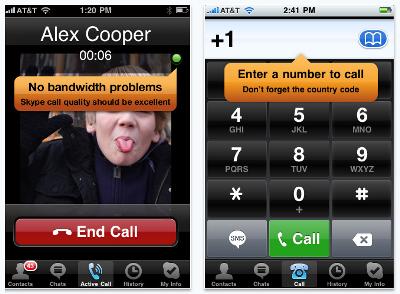 17. Print n Share
Print n Share™ is the first app that enables you to view, store & print email, documents, files, attachments, photos, contacts and web pages on your iPad/iPhone/iPod touch. Print either locally, or using 3G/EDGE, using ANY document type and ANY PRINTER available for your Mac or PC – As featured in the Apple "Office" iPhone TV commercial.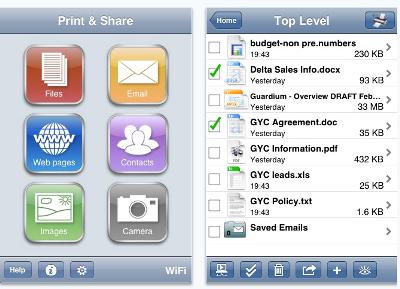 18. Read It Later
Read It Later lets you save websites to read later, even without an internet connection. When you come across an article or a website you'd like to read but can't at that time, save it to your Read it Later list. You can then read it whenever you have a moment, on the couch, in your commute, on the plane, train, or practically anywhere. This allows you to eliminate the cluttering of bookmarks and inboxes with links that are merely of a one-time interest. It's like a staging area for bookmarks.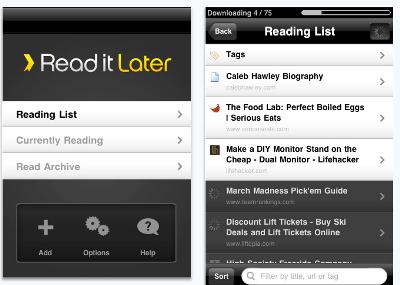 19. Epicurious
This app from award-winning food site Epicurious.com includes over 28,000 delicious, professionally tested recipes from renowned magazines such as Bon Appétit and Gourmet, popular cookbooks, top chefs, and leading restaurants. The app works on both the iPhone and iPad, giving you an experience optimized for whichever device you're currently using.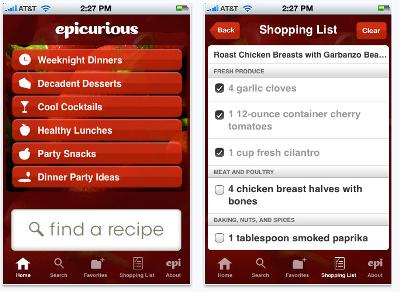 Photoshop.com Mobile for iPhone: Edit and share from anywhere. Photoshop.com Mobile for iPhone lets you quickly and easily edit and share your photos with simple gestures directly on your iPhone. Photoshop.com Mobile is like having your entire photo and video library in your pocket without wasting your phone's valuable storage space.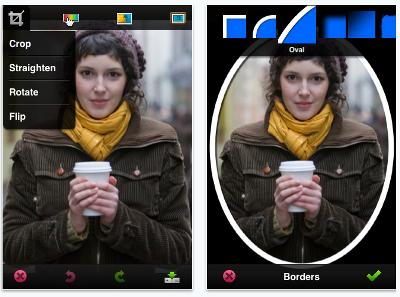 21. Siri
Ask Siri for anything, with your voice, and it'll return you what you're looking for, not just in terms of search results, but actual, actionable things, like restaurant bookings or movie tickets. Get me a taxi. For example you can ask him to book a table at a good steak house, know who's playing at Madison Square Garden and lot more.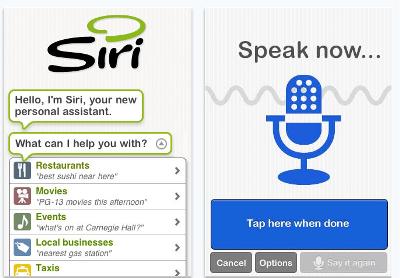 JiWire's Global FREE Wi-Fi app uses your iPhone's GPS and network triangulation capabilities to locate free Wi-Fi Internet access. It has over 10,000 locations worldwide and the Near Me search option is based on your current location. It also allow you to search for specific geographic regions.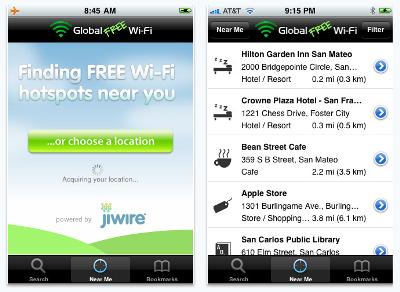 23. Pandora Radio
Pandora Radio is your own free personalized radio now available to stream music on your iPhone or iPad. Just start with the name of one of your favorite artists, songs or classical composers and Pandora will create a "station" that plays their music and more music like it.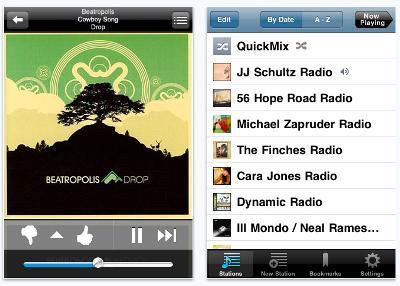 24. Grow Your Own
The free iPhone application from the Royal Horticultural Society – Grow Your Own – is designed to help you choose and grow fruit and vegetables – however much space or time you have. Currently, the content covers the 20 most popular varieties of fruit and veg, but low cost bundles of content covering additional fruit and veg will be available to buy soon.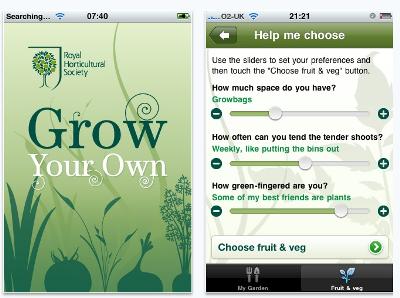 25. Yelp
Looking for a burrito joint open now? An Irish pub nearby? A gas station you can drive to before your tank hits empty? Yelp for your iPhone is here to help. Use us to search for places to eat, shop, drink, relax and play then read reviews from an active community of locals in the know.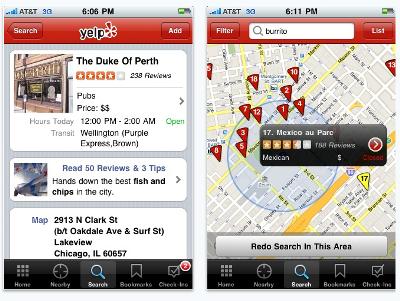 26. FIFA World Cup
Celebrate the FIFA World Cup in South Africa. Play the only official World Cup game for iPhone® & iPod touch®! With 105 International Teams to choose from, you can play as your own country – even if they haven't qualified for the real tournament! Simulate the real event or play out your own fantasy.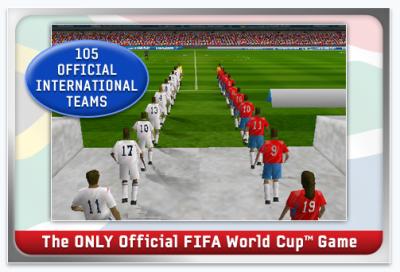 Get the latest and quality news articles and analysis from BBC on your iPhone/iPod Touch. The app also works even when you don't have Internet connection or poor 2/3G reception.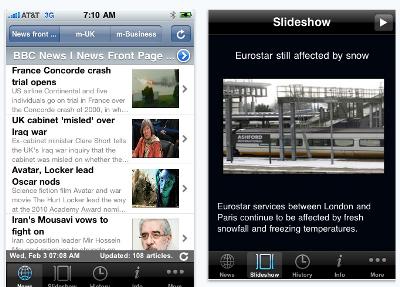 28. NYTimes
Take the high-quality news and information of The New York Times with you on the go. With NYTimes you can access the latest articles and photos of the day, customize the toolbar with your favorite sections of NYTimes.com and Read anywhere, after synching, articles and photos are available when offline.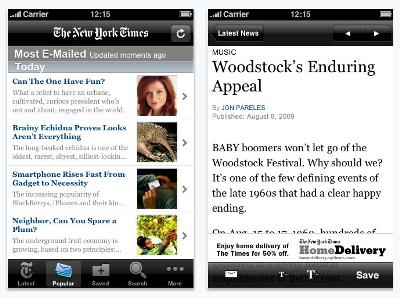 29. Movies
Movies by Flixster is the #1 movie app to watch movie trailers, find showtimes, get critic reviews from Rotten Tomatoes, and share movie ratings with your friends.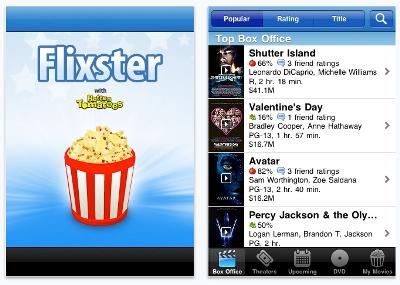 30. Photogene
Photogene is about improving your digital photos and having fun while at it. This intuitive, easy to use application offers a comprehensive set of professional editing tools like Crop and straightens, and Sharpen. In addition it has full set of color adjustments (including levels and curves) and you can correct underexposed photos and add a spark to washed-out ones.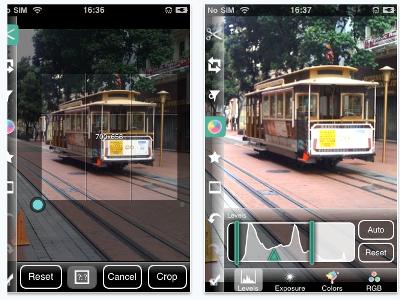 It is always good to pick iPhone apps that are best to save time, effort and money. For best iphone games you should check out our Top 10 iPhone Games You Can Download For Fun. This is our favorite list and what is yours? Share it with us via comment and also subscribe to our RSS for more such cool updates!
Last but not least, if you are fed up with your iPhone and want to try android ( chances may be rare after apple) then you can look into our 30 best android apps list and top 10 android applications lists.