5 Best App For Hard Drive Data Recovery
Someone days it right "Data is a precious thing and will last longer than the systems themselves". So if you want to recover deleted data from computer, here are 5 best apps for Hard Drive Recovery.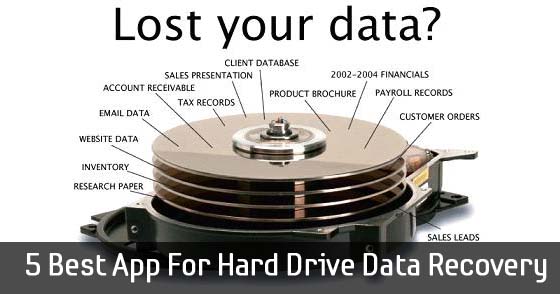 Recuva is best and easy to use file recovery program which comes with advanced features as well. Recuva recover files from hard drives, external drives, memory cards. Recuva undelete file in Windows 7, Vista, XP, Server 2008/2003 and older versions of Windows like 2000, NT, ME and 98.
Another excellent tool which comes with best wizard to help you undelete files in any recovery app. More advanced "Surface Scan" is available in Pandora Recovery that recover more files than the standard search. Pandora Recovery undelete files from hard drives, memory card, etc. Pandora Recovery supports Windows Vista, XP, Server 2003 and 2000.
NTFS Undelete is yet another free app which comes with Windows Explorer-like user interface and making easy for beginners to get started with it. The downfall of NTFS Undelete only supports file recovery on NTFS formatted drives. This means NTFS Undelete work with some hard drives in Windows Vista and XP.
TOKIWA DataRecovery is very similar to others in this list. The best thing TOKIWA DataRecovery has it easy to use feature. I has single program window where you can scan files for recovery, sort files and undelete them. TOKIWA DataRecovery recover files from hard drives, memory cards, USB drives and other external drives. It supports Windows Vista, XP, 2003, 2000, NT, ME, 98 and 95.
Avira UnErase Personal one of the most simple free file recovery program and after installation, in single click you see every deleted file on a drive. Recovering a file with Avira UnErase Personal is a single click operation as well. UnErase Personal recover files from hard drives, USB drives, memory card and other similar sources.
Finally in comment section, let us know which one you like and if i forget to include any of it, share it in comment section.