Mobogenie – All-in-one Android phone manager for PC
Smartphones of yesteryear often came bundled with accompanying PC Suites. Gone are those days! Managing your PC's and smartphones side by side can be difficult given the massive fragmentation in the Android ecosystem and with hundreds of smartphones launching each year as well as Google launching new updates every six months, it is impractical  to develop a new suite everytime. You can either use the default android manager which can get tedious or use third party software to manage your smartphone right from your PC. Mobogenie is one such software that lets you manage your android smartphone straight from your PC.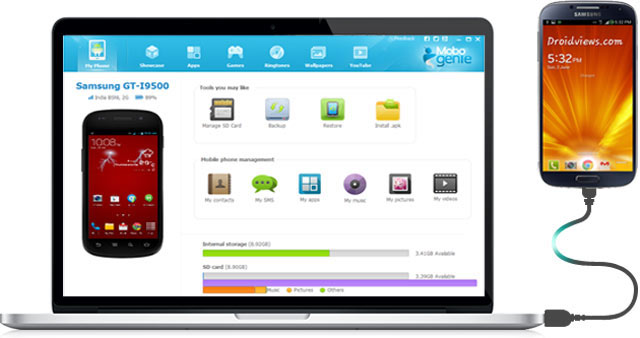 Connecting Your Device
First and foremost, to connect your smartphone to your PC, you'll need a USB cable. After launching Mobogenie, connect your smartphone to your PC via USB.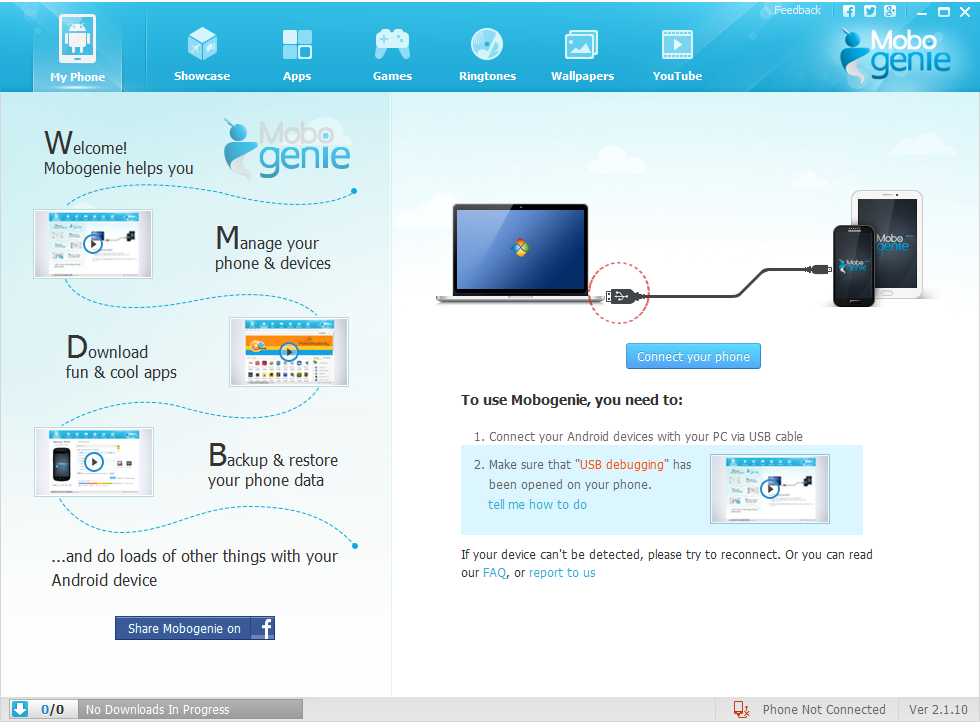 Mobogenie will then guide you through the first time set up process. You'll need to have USB Debugging turned on for Mobogenie to work. Once connected, your phones details such as the battery, network signal, storage, etc are displayed along with the smartphone model.
User Interface
Mobogenie sports a functional and user friendly user interface. Its easy to use and go around. The homescreen is the basic PC Suite that you might need.
Tools like managing SD Card, Backing up your device, Restoring your device to an earlier setting and an option to install .apk files followed by Mobile Phone Management. The manager lets you see through your phone contacts, sms's, music playlists, picture as well as video gallery. The homescreen also displays your phones internal as well as external memory.
The top bar allows for easy navigation to the various features and freebies that come along with Mobogenie. Showcase presents a list of most popular apps. Other markers indicate apps, games, ringtones, wallpapers and a built in Youtube Window that even lets you download videos.
Features
Mobogenie is a complete PC Suite for your smartphone. It displays all contacts as well your conversations. It lets you send sms's straight from Mobogenie without having to lift your fingers from your PC keyboard. New SMS's are shown in neat pop ups, so you always know that you have received a message.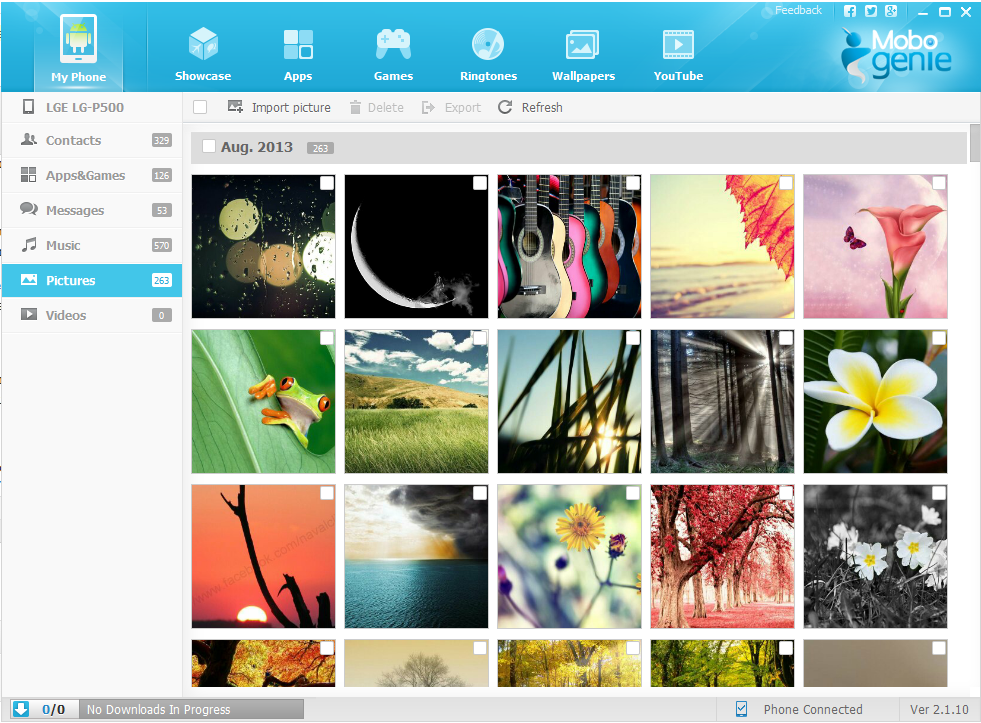 Your entire music playlist is displayed and you can play you music straight from Mobogenie. It also lets you set any particular song in your playlist as your phone ringtone. However, music play is not instantaneous. This limitation however might be because of the USB.
Pictures and videos are shown and sorted by date and if you happen to have hundreds of pictures on you device, you'd wish for the gallery view with folders.
What sets Mobogenie apart from other such PC Suites is that it comes with loads of freebies. There are plenty of apps that you can choose from which are neatly organised into categories such as under Theme, Popular and Editor's Picks.
Click to install them directly to your phone. Wallpapers and ringtones are downloaded in a similar fashion. The downloaded wallpapers appear in a folder called image in your phone gallery.
Another nice addition is the inbuilt YouTube video downloader.
You can browse videos just as you would on your internet browser and choose to download the video. However do keep in mind that downloading videos from YouTube is illegal.
Conclusion
Mobogenie wants to be more than just a simple PC suite for your Android smartphone. In addition to a PC suite, Mobogenie delivers more by letting you install free games, wallpapers, ringtones and other apps. It lets you use you PC's internet connection and download applications on your device.  It performs well and delivers what it promises. We would very much like to see Mobogenie go a step further and free us from that USB. Connecting via Wifi could be much more faster and straightforward.
You can download Mobogenie directly from here.