AT&T Enters Prepaid Smartphone Market with LG Thrive
AT&T has finally entered the prepaid smartphone with the LG Thrive. The LG Thrive is based on the Android 2.2. It is an advancement in the GoPhone category and offers a whole range of features, including: 3.2-inch colour full-touch display, Wi-Fi, Exchange email support, and a 3.2-megapixel camera. Additionally, this phone will have unlimited Wi-Fi access at AT&T Wi-Fi hotspots nationwide.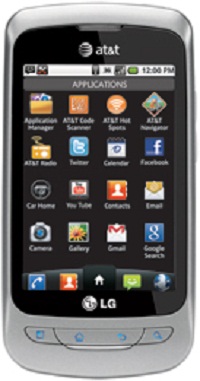 The official AT&T site suggest that the data plans have the following options:
10MB at $5
100MB at $15
500MB at $25
Additionally, you can also choose between one the following 2 plans:
Smartphone $0.10/min Plan
Smartphone $2/day Unlimited Talk and Text Plan
The phone will be available for buyers starting April 17, 2011. The phone will be available at $179.99 in silver. It is reported that AT&T will also offer a two year contracted-version of the LG Thrive called LG Phoenix. LG Phoenix will be available in dark blue for $49.99. Both the devices will be sold in all AT&T stores.
Some of the interesting features of LG Thrive are:
Android 2.2 platform
HSDPA 7.2 3G data speeds
600MHz application processor
3.2"  320 x 480 262k color full-touch display
Wi-Fi/aGPS capable
160MB User Memory w/ microSD storage (up to 32GB)
2GB microSD card installed
3.2MP Auto-focus camera
Stereo Bluetooth
Quad-band GSM / Tri-band 3G (world capable)
1500 mAh long-life battery