Blogger Ready To Fight Spam On Comments
There are millions of Blogger across the world and the number keeps growing, but an serious issue faced by all is spam. Blogger deals with huge amount of spam messages every day, but not anymore now, bloggers have had to either enable comment moderation or use CAPTCHA. Thankfully, all comments on Blogger will now have to go through Google's filtering system.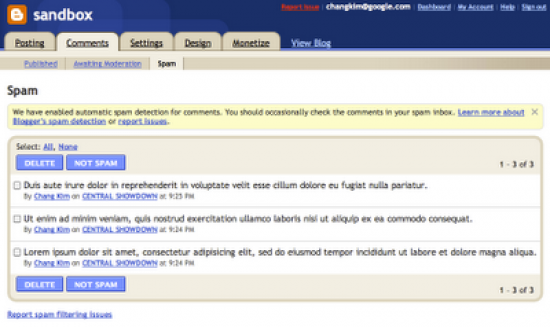 Saurav Shah and Junho Ryu, Software Engineers at Google wrote
Commenting is one of the most integral parts of blogging: it's what makes blogging a conversation, not a monologue. That's why we are pleased to announce two cool new improvements to Blogger's comments system: much better spam filtering and the ability to view all comments on your blog in one place.
It is no small announcement that Blogger is getting comment manager. All your comments on blog will be listed under the Comments tab which is yet to roll out. The comments are split into three categories, Published, Awaiting Moderation and Spam. You can see any comment made on your blog and delete it or remove it from the same page. You can also mark it as spam which will delete it immediately. So you can hurray with No Spam!