How to Bulk Download All Facebook Photo in Windows Computer
Facebook Downloader is a free utility tool that helps you download and retain photographs from Facebook. This tool helps you save copies of the photos on Facebook in your systems local folder. Apart from downloading just your albums, it can also download photos from your friends' folders.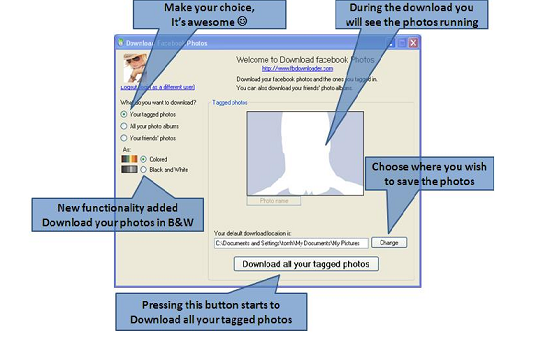 Facebook Downloader is available for free in the FB Downloader website, and some of its pre-requisites are:
Windows XP or later versions
.NET 4.0 or above
After the utility is downloaded and installed, from the user-friendly interface, you can navigate to the albums you want displayed and select the albums you want to download. You can select friend's albums you want to see, and select a default folder in your computer when you want to download all the photos. Additionally, you can choose to download these photographs as colour or as black and white photos.
You can download photos, using the following options:
Your Tagged Photos: Select this option if you want to download photos that you have been tagged on.
All Your Photo Albums: Select this option to download all the photo albums you have uploaded.
Your Friends Photos: Select this option to download photos of your friends.