Cool Web App To Find Similar Books, Movies, Music, And More
Tastekid is a cool web app which helps you to locate similar music, movies, authors, bands, books and more. You can meet Emmy who has extensive and growing knowledge to give recommendations and help you discover new music, movies and books, based on what you already like.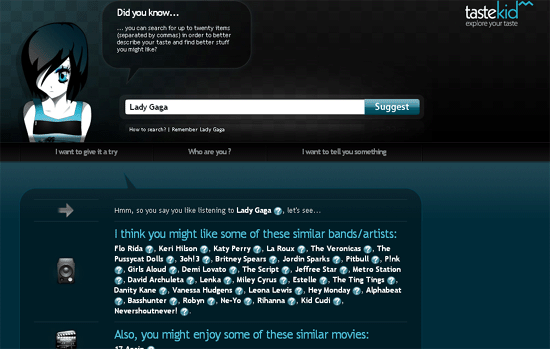 To use the website is as simple as eating hot chocolate cake, the simplest way is to write down in the big text input your favorite band, artist, movie or book, and hit "Enter" or click "Suggest". It will display you with all the similar stuff in three different categories as:
I think you might like some of these
Stuff I heard about recently
Stuff that seems to be kind of popular
For example if you type in "Lady Gaga", then you will get similar results for bands/artists as Flo Rida, Keri Hilson, Katy Perry and more. For the movie result you would get 17 again and stuff I heard about recently you will have Los Latigos, Dave Grusin, and others. Finally for stuff that seems to be kind of popular you get, Violent Femmes, We The King, Lawrence Of Arabia and others. Likewise, you can find more similar stuff for your favorites.
Another interesting thing about Tastekid is that they have developed a free iPhone App so that can get music, movies, shows, books and authors recommendations straight on your iPhone, without having to launch the browser and visit the website. Having an intuitive and easy to use interface especially designed for the iPhone, the app provides the same functionality as the website. You can type in your favorite bands, movie or show titles, books and authors, and you get instant recommendations of things you might enjoy, based on what you already like. You can even watch the Youtube clips or read the Wikipedia excerpts available on the website.
This stuff is free and handy for all the users not looking to spend hours of time in libraries or online to find similar stuff on what they like. Go ahead give it a try, you would surely be surprised!