Crowd sourced Facebook price program from Tata Docomo
Facebook is all about experience & unbiased conversations. We have seen the brand utilizing the platform for crowd sourcing the testimonials, ideas & even brand logos. In a recent news, Tata Docomo  launched a unique crowd sourcing program on Facebook. In this program, it has invited all the 12-million strong community to decide the price of the new IDEOS handset bundled with an attractive tariff plan with benefits worth Rs. 1500.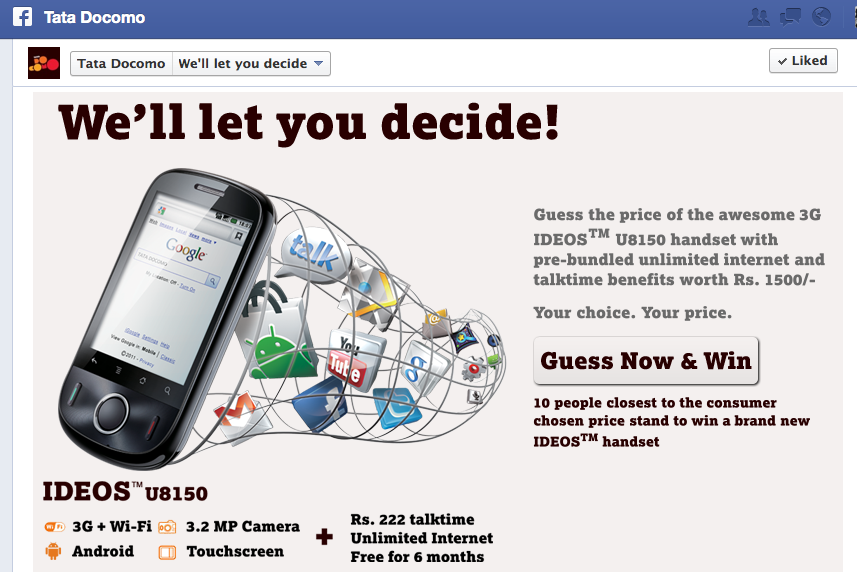 In a press release they told us that:
This initiative by Tata Docomo is the first ever promotion in which the handset –tariff bundle is going to be launched at the consumer chosen price. In just 4 days, hundreds of people from all over the country have already sent in their bids of what they believe should be the right price. The going price of the handset bundle on the 'We'll let you decide' contest page is currently at Rs. 4453/-.

The feature-rich IDEOS handset comes loaded with the Android OS, a large capacitive touch screen, a wi-fi portable hotspot and a 3.2 MP camera. In addition, it has cool applications like Google Maps, Google Talk, YouTube and offers great connectivity with Bluetooth 2.1 and Micro USB slot. This has been bundled with Tata Docomo's tariff plan that gives the customer Unlimited internet + Rs. 222 talk-time, free for 6 months.
Users can participate in the contest by clicking on http://on.fb.me/Z5lP0N
and the contest is open for all Tata Docomo Facebook fans till 10th March.

The brand has always believed in challenging existing paradigms and this sure is yet another step in that direction.
You can participate in the initiative & can also check the current going price of the device: