Cut The Rope on iPhone [ First iOS game to win a BAFTA Award]
Yeah, you heard it right. Cut the Rope is the world's first iOS game to win a BAFTA Award. CUT THE ROPE claimed to topped one million sales just nine days after its release and now this physics-based puzzle phenomenon won the BAFTA for Handheld.
Hands on Video of Cut The Rope on iPhone Developer Details
Cut The Rope, published globally by Chillingo and developed by Zeptolab.
It is a physics-based puzzler for iPhone, iPod Touch, and iPad, and has sold more than six million copies worldwide on the Apple App StoreSM.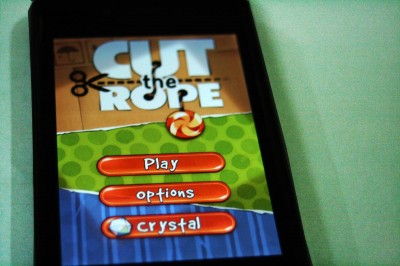 Features
1. Innovative Gameplay: It Combines realistic physics with simple controls by collecting the stars and avoiding the enemies and obstacles.
2. Replay Value in Cut The Rope : Getting the candy to Om Nom (a funny monster) is the main objective of the game, but each level contains 3 stars for you to collect. There is a huge amount of fun to be had trying to collect them all.
3. Levels Galore of Cut The Rope : It's more than a game as each of Cut the Rope's levels requires a different thought process and execution and will keep you entertained!
4. Gorgeous Visuals in Cut The Rope: Colorful cartoon-style characterization lends plenty of charm to Om Nom, whose facial expressions and mannerisms never get boring.