Download HoneytechBlog Christmas flavored wordpress theme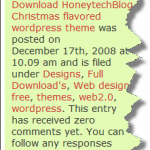 Update: The Christmas theme is updated to the latest version 1.10 with the new feature of "About this post" in the sidebar and some optimization in the "Stylesheet".
If you have already download this theme then i'll highly recommend its new features.Its highly compatible with blogs having thousands of post (like honeytechblog).More over the adsense placement are optimized with the post and the templates to yield high earnings.
[download#1#image]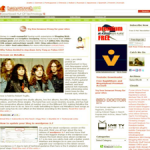 We all are heading towards the Christmas eve so today i launched the Christmas flavored theme for HoneytechBlog.On this festive month i want to disclose a great news for my all the viewers who wants to try out this Christmas tint theme. Unlike before now you can easily download this theme have following features:
Three Sidebar Ready
Fully loaded with Adsense (you just need to replace the adsense codes)
Comes with the PSD source code of the header logo which is also web 2.0 enabled with a mirrored spirit.
Google customize search enabled.
Note:Its a beta version of the theme and i would like know about its bugs.Thanks in advance for your suggestions and help.
Extra Tips:
Color Codes : In case you want to optimize your earnings you may also use my color codes for the customization of adsense and theme.
Green Navigation:             #99cc33
Link Color (red shades): #cc3333
Adsense color palettes have following codes
Border             # FFFFFF
Title                    # cc3333
Background     # FFFFFF
Text                # cc3333
URL                # cc3333
Some social networking icons that you can use with this blog are :
Note: If you want to download the old version (v 1.0 )of this theme then feel free to comment requests.