Facebook Second on the List of Most Phished Brand
Although Facebook is the world's largest social networking site, it does come with few cons when speaking about security. A recent report from security researchers from German antivirus vendor Avira explained that number of phishing attacks on Facebook users has increased almost of 64% in July. With this rate Facebook lands second on the list of most phished brand and PayPal holds number one position apart from significant drop of 37.30% in phishing activities.
Avira statistics explained –
Paypal continues to be the most phished brand around, followed now with a long distance by Facebook which continues to be quite a lot under attack. Because of the holiday season, many people started to buy games and spend more time in the social media websites, so the increase in attacking such web sites comes quite naturally.
Note that the top 10 names have remained almost the same compared to June but the amount of phishing has grown.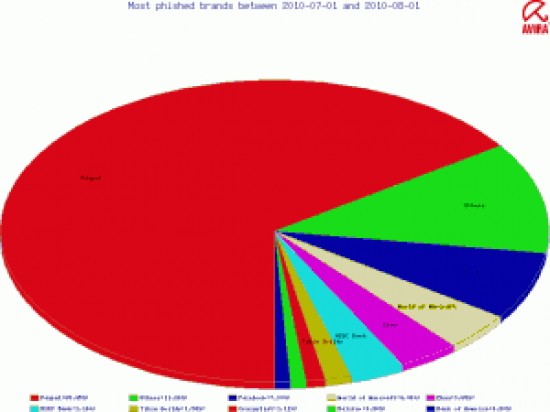 The fashionable World of Warcraft game as well noted a significant rise of 40.58% in phishing attacks against it and takes the third place after Facebook with a 4.04% score. Further it interesting to note that HSBC Bank's phishing activity were decreased by 36.42% in July. The rest of the top is filled in by Tibia Guilds 1.58%, Craiglist (1.11%), Halifax (0.94%) and Bank of America (0.90%).