Facebook Will Share Details About Facebook Verified Apps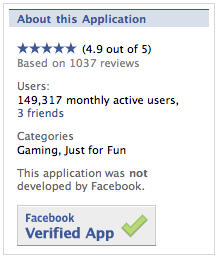 Around five months ago facebook has launched an applications verifications program which will increase the user's trust on the applications. In before, facebook informing about any facebook applications which only shows that "this application was not developed by facebook". Nowadays, they are showing verification badge — this verification information will be visible in the parts of "about this applications". Several developers already have informed that, facebook responding slowly and taking more time which wasn't in past and lost of people complained about this matter by forum.
A developer David Stillwell posted on facebook developer forums, and facebook said,"We want to thank you for your patience as we get closer to launching The Verification Program.  Regarding timeline, we expect to announce the first set of verified applications within the next couple of weeks.   This announcement will be coupled with the benefits, which include badging and special highlighting in the Application Directory, and bucket boosts for requests and notification allocations.We apologize for the delay. We will be back in touch with more details before we launch the program."
As well the facebook platform team responded about the long time verification programs that, "We apologize for the delays, but we are working to really make this a release that Verification members and Platform users will appreciate and find useful. We appreciate your concerns and questions, and hopefully once everything is launched, you'll feel it's been worth it. Platform went through some changes through the course of getting this program out, so a lot of questions arose that weren't easy to answer and that we've wanted to take the time to get right."
This is no fully official information though Facebook Platform Program Manager Sandra Liu Huang said "when the program launched that the benefits would include higher viral channel allocation limits for notifications, requests, and emails (though Huang says "the application reputation system is still in effect") and a "seal of approval" indicating that the application is verified.". Maybe shortly they will inform us officially and we will let you by updating our site.