4 Free Photo Editing Apps Designed for iPad
iPad one of the most popular tablet that comes with loads of features and different apps to increase your productivity. Now iPad 2 comes with a camera and I'm damm sure that you have clicked many photos from it. Sometimes you do not like the color or shade of that picture then what do you do? You simply think that, there should be some apps that allows you to edit those photos. In this post I'm sharing free photo editing apps which allows you to edit images on your iPad and that to free of cost. In addition to this, after editing photos you can share it on favorite social networking platforms.
FotoEditor allows you to quickly edit your photos by applying loads of effects and filters.
All you have to select a photo from your photo album, after it you can apply loads of effect such as negative, grayscale and sepia. In addition to this, you can also adjust things like contrast, brightness, gamma correction and mirroring of the image. By using this app you can share your edited photos with all your friends on Twitter or Facebook. Even-though if you do not like the changes, all you have to do is to hit the restore button to remove all the changes made by you.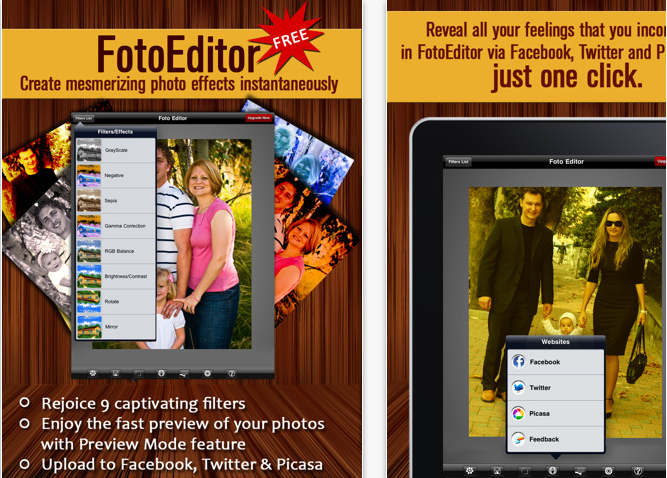 Effects HD is specifically designed for Apple iPad 2 users and by using this app you can either take image directly from iPad by pressing camera button or you can open an image from your photo library. By default, Effects HD comes with 12 pre-loaded filters cross-processing and black & white filters. Even if you do not like the edited photo, then you can revert it to original state. After editing photo you can save it or email it to your friends or you can share it on Tumblr, Twitter and Facebook. In other words, Effects HD is an easy and swift way for editing photos directly on your tablet device.
There is not doubt that Photoshop would be a solid iOS app which offers some pretty decent photo editing features. You can edit any photo and by using this app you can adjust photo, cropping, rotating and straightening it. In addition to this, you can also convert your photo into sketch, soften the focus o sharpen it and you can adjust exposure, saturation, tint, contrast or convert it into black and white photo. You can save image in your photo library or even you can share it on Facebook or on your online Photoshop account.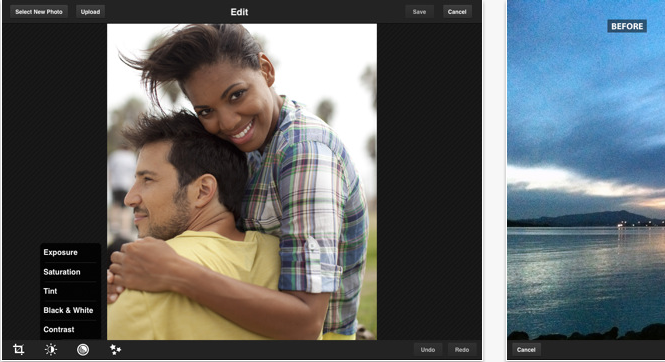 Crop Suey HD is a cropping tool and one of the simplest one. When you first start the app, you will see a simple three-step tutorial. All you have to touch the open image icon in top left corner of the screen, choose an image and after it use the tools available at the bottom of the screen to manipulate it.