Get Top Android Games for Free with Mobogenie
The android PlayStore is only one of the markets where one can download apps for their Android smartphones. Sure, it is the biggest market for android apps but there is too much junk. With over 6 million apps, finding the best apps can be time consuming. Apart from the playstore, there exist several other markets for apps like Amazon, Getjar, etc. One such marketplace for android apps is that of Mobogenie.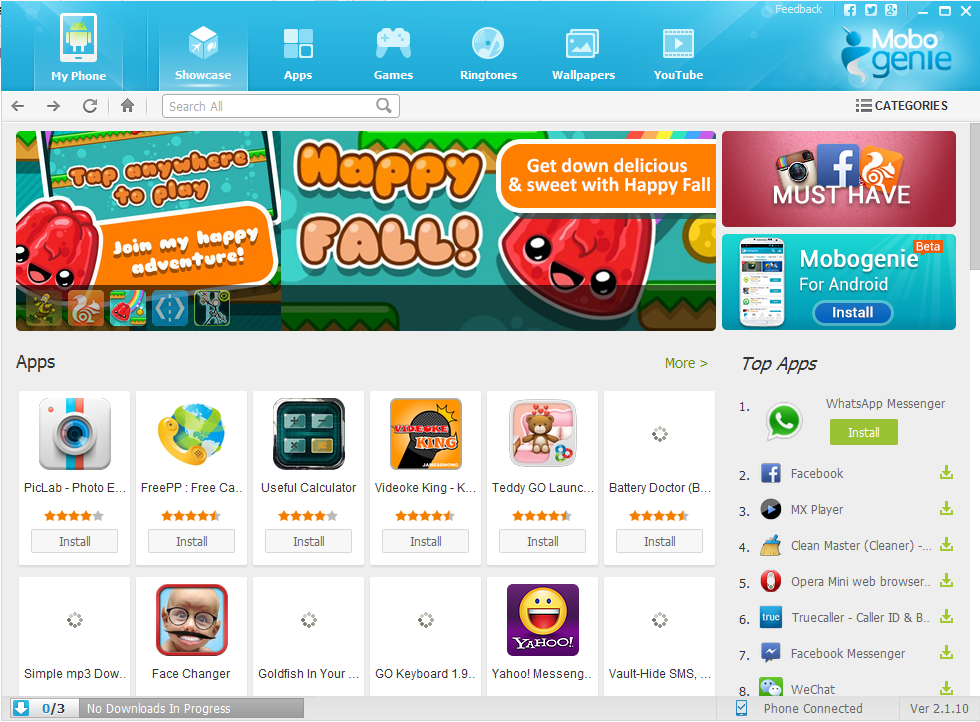 Primarily a desktop PC Suite for connecting Android smartphone to your PC for creating backups, Mobogenie offers tons of freebies in the form of free apps, games, wallpapers and ringtones. Once you have downloaded Mobogenie and are running it on your PC with your smartphone connected via USB, just follow these simple steps to get popular apps and games for free.
Run Mobogenie with administrator rights.
Connect your smartphone to your PC via USB cable.
Enable USB Debugging mode on your smartphone. To check how to enable USB Debugging mode on your smartphone, click here.
On the top, you will find multiple tabs. By default, the My Phone tab is loaded. Click on Showcase, Apps or Games to head to the respective categories. Showcase presents different categories of apps in a condensed form.
Once in a particular tab, on the right side, you will find a list of the most popular apps or games. Just click download and the app or game will be automatically downloaded and installed on your smartphone.
You can check the progress of the download by clicking the download bar at the very bottom left.
Thousands of free apps and games are only a tip of the iceberg. Mobogenie has a huge collection of free wallpapers and ringtones to suit to your taste. Add to it a YouTube video downloader and it makes a great piece of software worth downloading. Get Mobogenie by hitting the link below.
Download: Mobogenie