Goodbye to 2008 with a new year bash
New Year's is a harmless annual institution, of no particular use to anybody save as a scapegoat for promiscuous drunks, and friendly calls and humbug resolutions.  ~Mark Twain
"Last night was one of the best night in my life and it is producing a strong effect on me.The fashionable elite that can make you tight all over the floor and with the friends right."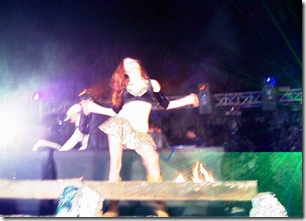 Since 2-3 weeks back we were planning on the uncertain Plan – a plan for the new year eve, a plan to be the bash , a plan to do the things that we haven't done yet.First of all we plans for some hill stations like #dhanaulti and #Manali but when their were only two people who actually were ready for this because Praval have its practical's , Prateek have its Office and Hitesh and Sid have their ZAT exams on 4th of jan 2009.Anyways plans are like a series of mental images and emotions occurring due to frustrations and a cherished desire of celebrating new year.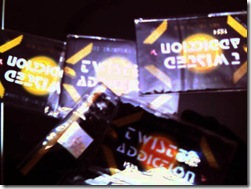 Every man regards his own life as the New Year's Eve of time.Finally after so many unsuccessful attempts i kept my self an ideal body but ashish have 100W of ethos.He leaves the office (Siemens Technology ) and reached the home around 12.30 p.m.Their after he collect two more guys (Hitesh+Sid )and direct them for searching "New Year Bash in New Delhi" .After about 20 min they found some sites and starts fetching the contact numbers.These contact numbers are then checked by the ashish.Anyhow we arranged some 5 VIP passes for 22,000 bucks at Malik Orchids Main Chattarpur Road, New Delhi.It have a A class arrangement's for the party with Champanges ,Wine ,Scotch (BLACK LABEL, BACARDI, ABSOLUTE, CORONA, WINE ) together with Shadow dance ,Lazer shows,Jugglers,Fire works and Hookah lounge.Its really kind of TWISTED ADDICTION.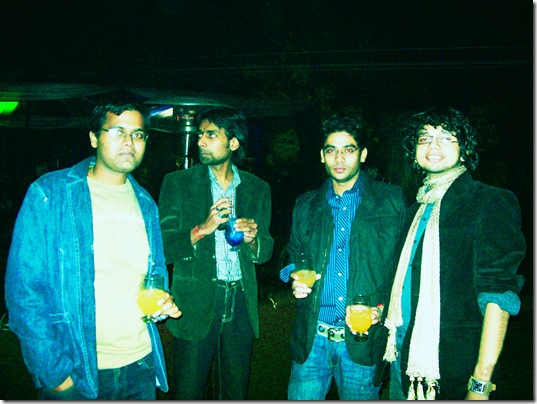 The only way to spend New Year's Eve is either quietly with friends or in a brothel.  Otherwise when the evening ends and people pair off, someone is bound to be left in tears.  ~W.H. Auden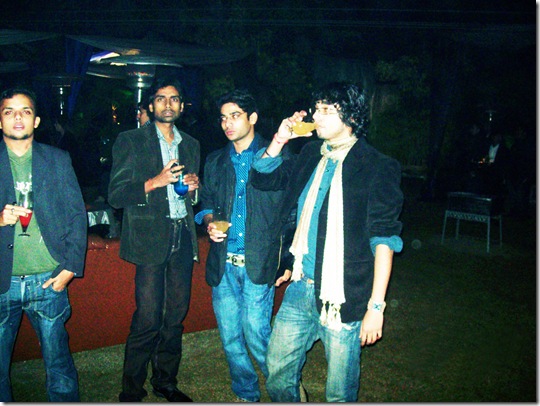 "Boozing and resolving my legs on the beats of  David Ryan UK + Matt Fear Ibiza + DJ Sumit Sethi (Bollywood ) is cool but when there were girls all around then this becomes an awesome moments in the life".
Last night i'm down with the main courses of Black Label , Absolute Vodka , Red /White Wine and things that i really don't know.
I do think New Year's resolutions can't technically be expected to begin on New Year's Day, don't you?  Since, because it's an extension of New Year's Eve, smokers are already on a smoking roll and cannot be expected to stop abruptly on the stroke of midnight with so much nicotine in the system.  Also dieting on New Year's Day isn't a good idea as you can't eat rationally but really need to be free to consume whatever is necessary, moment by moment, in order to ease your hangover.  I think it would be much more sensible if resolutions began generally on January the second.  ~Helen Fielding, Bridget Jones's Diary