Google Announces Special Press Event on Wednesday
Google is having a press event this Wednesday and seems like it is a major search even for which Google is sending out invites. Although the giant does not declare any much details of it, but some of the Google's biggest names in search will be present to take over the event.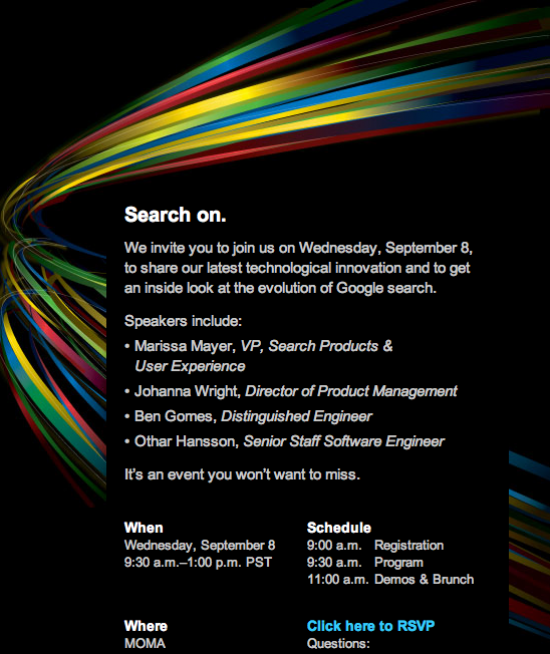 The invite that was sent to Search Engine Land reads –
We invite you to join us on Wednesday, September 8, to share our latest technological innovation and to get an inside look at the evolution of Google search. Speakers include:

Marissa Mayer, VP, Search Products & User Experience
Johanna Wright, Director of Product Management
Ben Gomes, Distinguished Engineer
Othar Hansson, Senior Staff Software Engineer

It's an event you won't want to miss.
Google is not declaring anything more on this, but the speculation is that there won't be any big announcements though it is possible there would be some new products and new features on display. The event would probably focus on what Google Search has been doing so far and some of the general directions.
The Google people present at the press event might serve as a hint to what might be unveiled; most are caught up with what the user sees rather than the technology behind it. Marissa Mayer, senior vice president of search and user experience is one of the first Google employees and requires no introduction. Ben Gomes, listed as Distinguished Engineer, is billed as Google's search czar.