Google Buzz Desktop Application
Looking forward to share the information across the web with your Gmail friends, Look no further beyond the Google buzz. Be it a phone application or the desktop based application user, Google Buzz the "thee" word that's spreading like wild fire, supported mainly by its high efficiency to transfer information's and the familiarity of the Google across the globe.
Final Preview of Google Buzz Desktop Application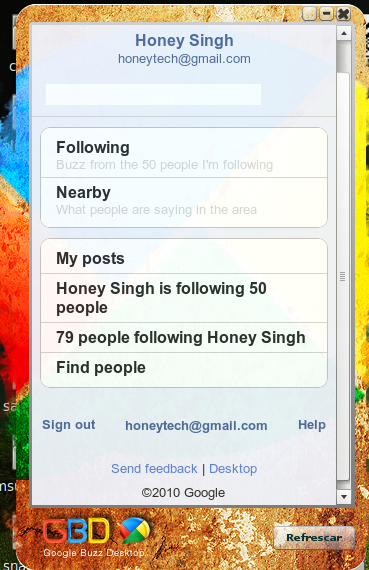 Google buzz Desktop is a free application that bases it architecture in line with the Adobe air. Google buzz is one of the latest additions to the Gmail world, and the system is designed indigenously to enable the user to distribute or share images, video and many more. It even permits you to initiate discussion on the issue's you require.
The Google Buzz desktop completely eliminates the requirement to Log-in to the Email account of the Google to use the Google buzz, this stream is completely taken care to be served right into your desktop, Thanks to the efficiency of the Adobe Air.
Possible options available with the Google Buzz:
Email account from Google – Gmail;
Chat enabled with contacts from Gtalk;
Google docs accessibility;
Compatibility to view your calendar; and many more.
The Google Buzz Desktop client is prepared completely inline to match up with the interface similar to the iphone buzz, thus enabling you to catch-up with the people who you follow-up and even patch-up with people whom you follow with.
Highlights of the feature packed Google Buzz desktop:
A Snappy Quick update is served right at your desktop for every couple of minutes.
Compatible to be commissioned on any operating system presently employed.
This tool is designed to promote the Google products, but still a complete package mainly intended to make all the Google apps to be accessed from a single window. It is surely another package typical of the Google stream, a class product that spells loads of convenience under one application.
How to install Google Buzz Desktop Application
1.Download Google Buzz air application. (You need to have adobe air for this )
2.Install Adobe air application. Below are the preview screen-shot's while install this application.