Google Buzz Gets "Suggestion To Follow" Tool
Twitter has been adding several 'follow suggestion' features and reactions have been mostly good. Google is now doing the same with suggestions for Buzz, enabling users to start following people who may be of interest to them. This announcement is made on the Buzz Team feed.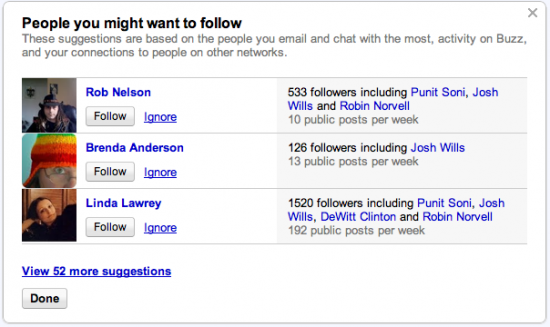 Buzz Team announced
Starting today, the next time you load up the Buzz tab in Gmail, you may see just that: suggestions for new people you might be interested in following," the Buzz team wrote in the official feed.

These suggestions are based on your frequent email/chat contacts, your public connections on other networks, and their activity on Google Buzz," the announcement explained.
The feature is basic, it looks at your contacts as well as the people you already follow and suggests others that may interest you or may be connected to you. "Only people who have public Google profiles will appear as suggestions. If you see a suggestion you like, you can choose to follow them right from there. If you never want to see a suggestion for a particular person again, click 'Ignore'," Google further explained.