Google Chrome extension for checking IP
As per July 24 Google avail the extension features only on developers and beta versions of Google Chrome. In my previous article we launch the Google Chrome Bookmarklet for instant IP checking which can be accessed on any latest version of Google Chrome with the help of bookmarks bar. In this post we are launching the extension (*.crx) of What is my IP. Before installing any extension you need to read the following documentations.

How to install extensions for Google Chrome
You need to have Google Chrome developer version installed in your system.
Right-click the Chrome icon on your desktop and choose Properties then Go to Shortcuts and add the –enable-extensions in the end. (for example C:\Users\honey\AppData\Local\Google\Chrome\Application\chrome.exe –enable-extensions ) – Resource available on Chromium Developer Documentation
Restart / Launch the Google Chrome
How to install What is my IP extension on Google Chrome
Install  [download id="16″]

Extension: myip.crx
File size:1.28 KB
Last Build: July 23, 2009
Requirement: At least Google Chrome Developer Version 3.0.189.0 ( Current Version on July 23 3.0.195.1 )

When you click on the extension file (myip.crx) it will popup a message with "Extension error" in case you forget to add –enable-extensions in the Chrome shortcut icon (described in initial steps)
Restart your chrome
Screenshot of What is my IP Google Chrome Extension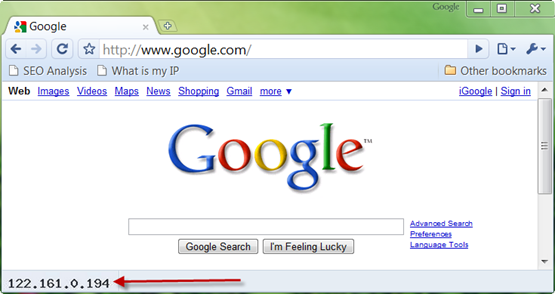 Note: Support and suggestions are invited for features, bugs and more extensions.