Update: Google Chrome Extensions for Gtalk v 4.0
Update: Google Chrome Extensions for Gtalk v 4.0 is compatible to latest Google chrome beta and developer versions.
Gtalk is the Google Chrome extension for Google Talk messenger. It is quite easy to install on single click which brings and Googletalk icon on the lower bar of Google Chrome. With the help of Gtalk extension you can start chatting immediately from any page of the Chrome.

Note: You can start the chatting by a single click on the button at the bottom bar which pop out the Google Talk in own window and sign in. In case you don't have a Google Account, you can sign up here to enjoy this feature.
Screenshot of Gtalk Google Chrome Extension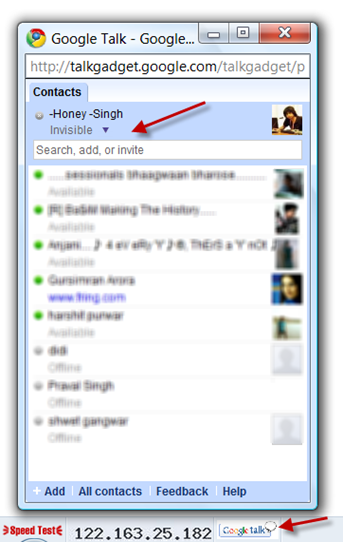 Install [download id="17″]
o Extension: gtalk.crx
o Developer: Honey Singh
o Last Build: July 26, 2009
o Requirement: At least Google Chrome Developer / beta Version. Download here
Note: Extension initially publish on Jul 26, 2009.
In case you are unable to install the Google chrome extensions then learn how to install extensions on Google Chrome.
This Google chrome extension is also available on CNET and Chrome extension library.