Behind the Google Voice
Google Voice really comes into buzz due to recent Google Voice fiasco where Apple deny to approve the Google Voice Apps from Apple Store.
If you are still confused about what actually is Google Voice, you should have the wild guess related with the Voice / Phone /Call / Voice-mails / Mobile / Number / Universal
Google Voice conceptualize the need of universal number (Google Number) which can track all your contact number i.e Phone / Landline / Mobile /Personal / Office. Nobody needs to remember the your various numbers as they can have master number to you in the way you want.
Manage your different phone's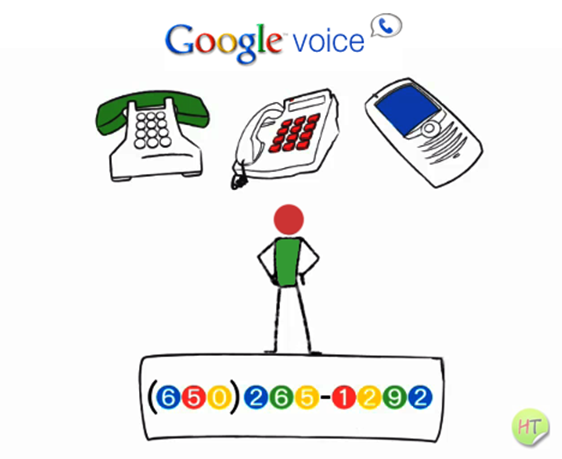 Overview of Google Voice
Google Voicemail can also integrate into Google Voice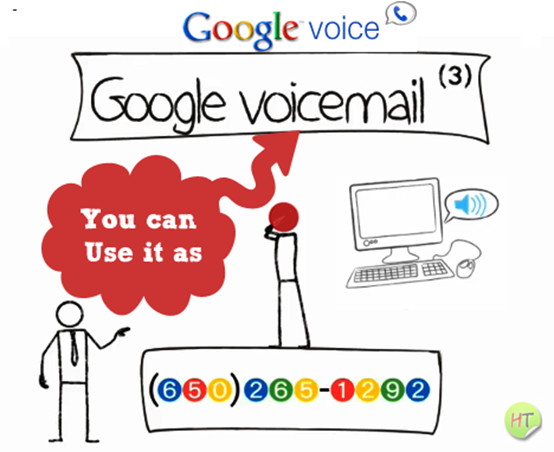 I think you got the basic idea of the Google Voice and now debate with your friends about this hottest air coming out of Internet. So whenever some one ask you about Google Voice just answer that "One universal number for all your calls and contacts"
Story Behind the Google Voice
There is lots of buzz in the market behind the story of Google Voice, so many cocky news, controversies with the Apple. Recently the CEO of Google "Eric Schmidt" resigns from the post of Apple's board of directors( 2006-2009 ). There are lots of predictions behind the Google Voice, some of them are as follows:
Steve Jobs (CEO Apple) officially announced his statements as:
Eric has been an excellent Board member for Apple, investing his valuable time, talent, passion and wisdom to help make Apple successful," said Steve Jobs, Apple's CEO. "Unfortunately, as Google enters more of Apple's core businesses, with Android and now Chrome OS, Eric's effectiveness as an Apple Board member will be significantly diminished, since he will have to recuse himself from even larger portions of our meetings due to potential conflicts of interest. Therefore, we have mutually decided that now is the right time for Eric to resign his position on Apple's Board.
Sascha Segan of PCmag recently reported on an article on "Google vs. Apple War" that:
Google and Apple used to be the best of friends, but they're looking more warily at each other these days. Apple's rejection of Google Voice apps for the iPhone was followed relatively swiftly by Google CEO Eric Schmidt stepping down from Apple's board of directors. That wasn't a tit-for-tat action, but it reflects how the two companies are starting to see each other as competitors. And now, it looks like the U.S. government is taking sides.
To be blunt, the FCC's bizarre investigation into the iPhone App Store makes no sense. It doesn't spur competition and doesn't really help consumers; the only entity it seems designed to help is Google.
There's no collusion, no industry-wide conspiracy to kill Google Voice which would bring out the trustbusters. Net neutrality doesn't seem to play a role here either. Google Voice is available on other AT&T phones, on T-Mobile's two Google Android phones, and on Verizon and Sprint BlackBerries. There is no shortage of ways to get Google Voice on a smartphone in the U.S.
Larry Dignan (Editor in Chief of ZDNet) published a report  on Google – Apple completions :
Now Google and Apple still need each other. Do you really think Apple will default to Bing for search? However, things have clearly changed. For instance, Google could get chummy with Research in Motion, which allows it to use Google Voice native. The iPhone base is huge, but RIM ain't chump change.
Apple will have to rely on its developers to get the job done. And that's why Apple will have to choose carefully when it comes to pulling apps like GV Voice on the fly.
I found this best statement by Arik Hesseldahl of Business Week that reflects some solid possibilities behind the Google Voice which may endangered the Apple's AT&T territory:
Free texting, free long distance calling and reduced-rate international calling are all things that AT&T has a lot of reasons to actively discourage. The voice mail experience is also superior. If you want to save a voice mail message there's really no easy way to do it from a cell phone without rigging call-recording equipment, and calling your mobile phone's voice mail system from a land line. With Google Voice you can just download the MP3, and drop the file into iTunes where you can burn it to a CD, put it on your iPod or iPhone, or whatever you like. (I've asked both AT&T and Apple for a comment and will add it here if when either are forthcoming.)
My Views:
Google's success is universally known, every big brands desire to compete with Google. Microsoft shake hands with yahoo just out of the desire to give a blow to Google, on the other hand every big brands like M$ , Yahoo and Apple are annoyed with the Google's thrust and capability to gave blow in the face of new products and competitions. Google is ready to enter in every possible fields, leaded by others. Google Voice is clearly a red light for AT&T business but coming days shows the details consequences of this start. In the end these radioactive waves of contentions will definitely going to beneficial for the common mob like us !