Helio X30 SoC Seems to be Beating the Snapdragon 820 in the Latest AnTuTu Leak
It is a ground rule that you do not use benchmark tests in order to compare the performances of a smartphone. Several manufacturers have been known to throttle the performance of their hardware when selected benchmark apps are used and that is why you should always rely on real-time performance. However, despite all the allegations, these benchmark tests do give us a reference point to gauge where does say one phone stand to the other.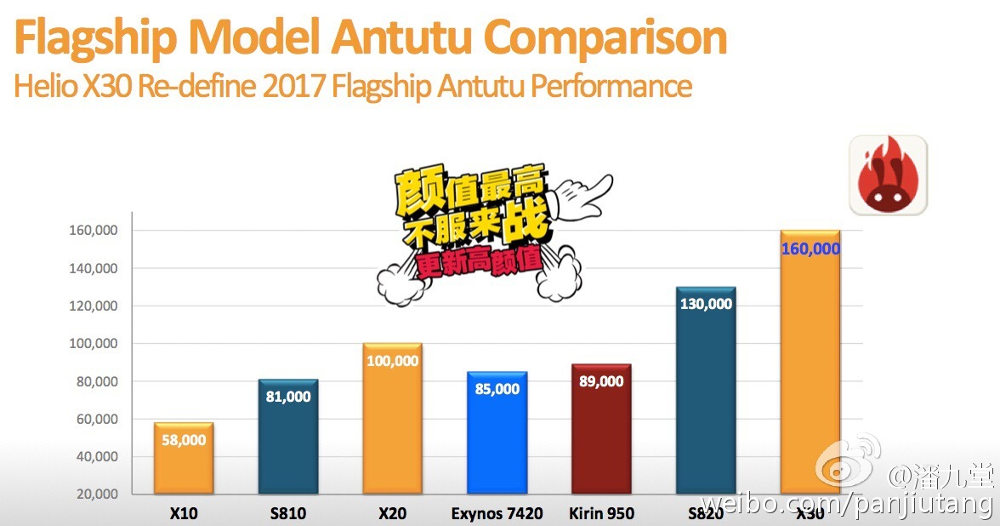 According to the Chinese tech industry analyst Pan Jiutang, who took to Weibo, the upcoming Helio X30 chipset is going to be seriously a performance demon. The chipset is going to be manufactured using a 10nm FinFET process instead of the rumored 16nm FinFET process. This alone should give the chipset a real boost.
According to him and a shared AnTuTu benchmark score, the X30 is likely to beat the current Qualcomm flagship, the Snapdragon 820 by a decent margin. Just like the predecessor and current flagship of Mediatek, which is the X20, the X30 is going to be a deca-core chipset and will use the PowerVR 7-based MP4 GPU. The image shared, shows a benchmark score of 160,000, which is really odd for a device to have such a perfect score.
We would take the news with a pitch of salt, especially as the screenshot is not from the comparisons of the official app but a manually drawn chart. What the news definitely does s that it increases the anticipation around the X30, well before its launch and puts pressure on Snapdragon 830 well before it is even out. The official launch is expected to be in June with mass production set to begin sometime end of this year.