How to access your pc from mobile – LogMeIn Mobile

Do you want a freedom of technology and save your power ,the power that shrinks the world into your mobile? If your answer is no, Please don't read after this line.
Everyone likes freedom and most of the geeks and professionals have a desire to control their world under a single domain.This leads the need of something that can connect you with most of your working spaces and hence your answer is LogMeIn – Mobile .
If you don't know about LogMeIn– Its a leading provider of remote-connectivity and support solutions to Geeks,small businesses and IT service providers just like RealVNC.In a simple word its a remote control software.
Where is the Cream?
Now LogMeIn comes with Mobile applications which can provides an easy and secure solution for remote troubleshooting of smartphones to cut costs of your IT infrastructure, save you precious time, and show users how to use their smartphone effectively.They also have application for the iPhone , called LogMeIn Ignition and also supports wide range of device running Windows Symbian,Mobile 5 and 6.For example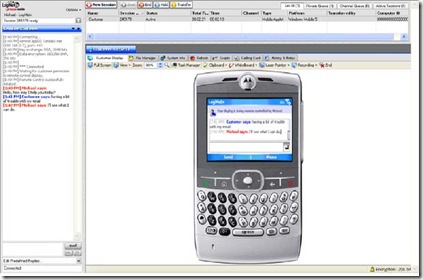 "
HTC S620,HTC S640,HTC S710,HTC S720,HTC Touch P3050,HTC Touch Diamond,HTC Touch Dual,HTC Touch P3450,HTC Tilt,HTC Titan P4000,UTStarcom PPC6700,Pantech PN8200,Palm Treo 700 w/wx,Palm Treo 750 (GSM version),Palm Treo 800w,Moto Q and Moto Q9,Samsung BlackJack,Samsung BlackJack II ,Sony Ericsson W960,Sony Ericsson P990i ,Nokia E61 and E61i,Nokia E50,Nokia N72,Nokia N73,Nokia N90,Nokia N93,Nokia N95,Nokia 6630,Motorola Z8
"
Getting Started Guide (.pdf)