How to easily create stylised text blocks, buttons, logos on Mac
Do you want to get a eye catchy graphics without digging your hands? Do you want to create stylised text blocks, buttons, or logos?
Here is Art Text with a reasonable ,affordable and easy-to-use graphics tool. It can also make you export your work in a variety of printing and graphic media formats like TIFF, JPEG, PDF, EPS, GIFF and PNG.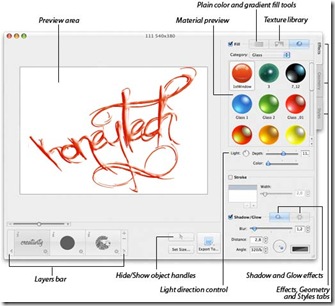 Short Info About Art text
Art Text is a Mac OS X application to create high quality textual graphics, icons ,headings ,buttons , logos and even warm web site elements .Support of multi layer (just like Photoshop and Gimp )creating complex graphics with panic works. Use the result with Apple iWork, iWeb, Microsoft Office, BeLight applications, and various other text edit and web design programs.

by _rathernot
Silent Features Of Art Text
It have collection of 190+ supplied textures.
It can Adjustable shadow and glow effects
It have radial and Linear gradient options
Color or texture fill capability
Unlimited strokes allow to outline text or artwork with different colors
Warp text using 22 adjustable vector transformation shapes or Bezier splines
Blend Modes allow layers to overlap each other with different effects, which helps to mask or partially shade images
50 Bitstream fonts (on professional /purchased edition)
Shading Pro tool offers over 245 ready-made surface materials and ability to create your own one
Collection of 190+ supplied textures.
It can adjust shadows and glow effects
Radial and Linear gradient options
Color or texture fill capability
Unlimited strokes allow to outline text or artwork with different colors
Warp text using 22 adjustable vector transformation shapes or Bezier splines
Blend Modes allow layers to overlap each other with different effects, which helps to mask or partially shade images
It have 50 Bitstream fonts (on professional /purchased edition)
Shading Pro tool offers over 245 ready-made surface materials and ability to create your own one
It have Multiple layers
It have Link Back technology
Export into a file or clipboard in TIFF, JPEG, PDF, EPS, GIFF and PNG formats
It have ability to print the created artwork.
It have 200+ ready made templates that will enrich your text and web documents;
It have 100+ pre-designed styles aimed at a quick creation of headings, icons, logos and web buttons
Flip, rotate and control opacity of objects
Multiline text support.
600 supplied vector icons and shapes, and ability to use your own
Art Text v2.0.2 (38.6 M):
Primary download   •   Alternative download