How to fix IE6 PNG Transparency issues in wordpress
In case you ever fight with Internet Explorer 6 (IE6) then you may know that it is full of compatibility issues. All the Developers and Designers cry when clients talks about browser compatibility. IE6 have several issues with web Security ,Flash objects ,JavaScript's ,Jquery ,CSS and PNG Transparency. Recently Ben Parr of mashable described that why IE6 must die . Moreover david walsh also listed 6 Reasons why IE6 must die due to lack of various compatibility supports.
In all the above issues IE6 PNG Transparency is the most unpleasant and irritating. On general websites we can fix these issues with the the help of script that adds near-native PNG support with alpha opacity to IE 5.5 and 6. Now the question moves into WordPress, though you can manually fix that but its quit tricky. HITS- IE6 PNGFix is a WordPress plugin for the persons who doesn't have any knowledge of scripts and css and wants to fix the PNG Transparency issues in few clicks. This plugin will automatically adds the codes to fix the PNG Transparency in IE6.

You can easily add and install the HITS- IE6 PNGFix from the Plugins>Add New options in the dashboard
You can configure the plugin from the Settings>HITS- IE6 PNGFix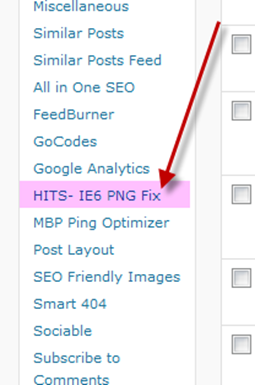 You can choose the PNG Fix Method from the drop down options of Twin Helix v1.0 ,Twin Helix v2.0 and Unit PNG fix

Note: For more similar tips, stay tuned to our Facebook fan page.