How to integrate Google apps together with your Outlook emails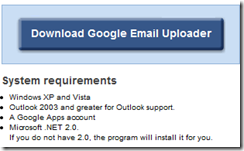 If you are thinking about the integrating your Google apps together with your Outlook emails then you will be felicitous to know about Google Email Uploader. As the name depicts the Google Email Uploader is an application to upload the windows outlook mails together with your apps. The project is licensed under Apache License 2.0 and is  an open source desktop utility. It not only uploads the emails but contacts and other information's also(just from desktop email programs). As an addon benefit it can also store and integrate sent dates and sender/recipient data, folder structure and other information associated with the email programs.
How to integrate Google Email Uploader
Download the application.
Install it on your desktop.
Open the application.
Sign in to your Google Apps accounts
*Email= yourname@yourdomain.com
*Password= yourpassword

Select your Outlook account associated in your windows and all done.
Discussion group: http://groups.google.com/group/google-email-uploader
About the Coding team:
gacohen, subir.jhanb, paramr, shaunak.godbole, sellarush, Raju.Gulabani, cvander…@google.com
Note: The project still in development stage amay have minor bugs,you can check the issues here.