How to redirect wordpress.com blog to self hosted domain
Initially my first blog was on wordpress.com (honeytech.wordpress.com) and have good amount of organic traffic. As you already know there are few limitations on every free services so i planned to transferred it into a new domain honeytechblog.com. About 1.5 year ago i committed many mistakes while transferring WordPress to self hosted blog. I completely forget to redirect old domain into new one, as a result i have severe content duplicity issues over old blog and new blog. Moreover i looses the natural traffic of my old blog.
Note: This posts aims to educate people who plans to shift from WordPress.com or already moved into self hosted domain from leaving WordPress.com. This post helps you in avoiding content duplicity issues, conflicts with search traffic, conserve the old user base and enforce your new blog with the old energy.
How to redirect wordpress.com blog to self hosted domain
We are going to tell you how to move yourblog.wordpress.com into your self hosted new domain i.e www.yournewdomain.com with the help of domain mapping in WordPress.
Note: Your main blog will stop working un-till you complete the Step 7.
Here are the Steps by Steps process to redirect wordpress.com blog to self hosted domain Step1
Go to your wordpress.com dasboard and find the options of Domains. Settings>Domains
Step2
In the add domains options enter the domain of your new blog

Step3
It will ask for the domain authorization and require the change of NAME SERVERS to NS1.WORDPRESS.COM ,NS2.WORDPRESS.COM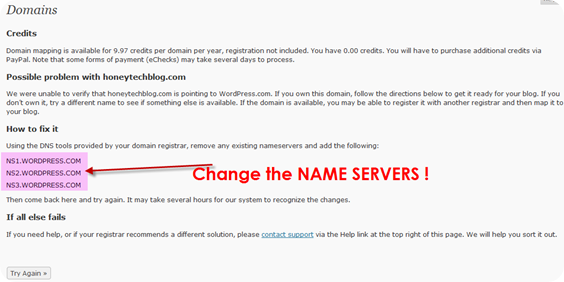 Step4
Go to your domain registrar (where your domain is located) and write down the name servers used for your domain and then replace it with WordPress name Sevres described in above step3.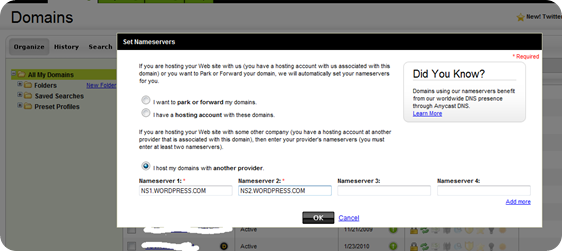 Step5
Buy the WordPress credits of $9.97 which is necessary for domain upgrade and is valid for one year. In order to continue this mapping you need to renew this every year.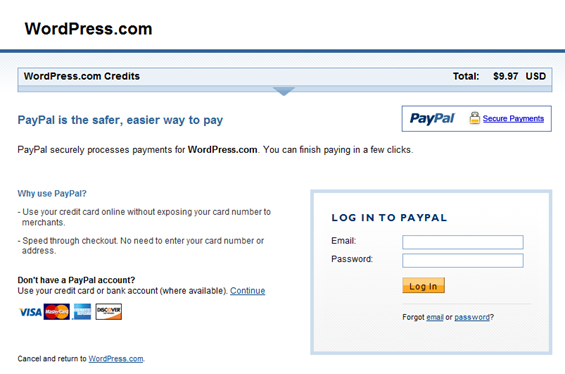 Step6
From the WordPress.com dashboard change the primary domain to your new domain(In the below image i choose my primary domain to old.honeytechblog.com instead for main. I do so to avoid the downtime in heavy traffic site, in upcoming posts i'll publish the whole case study of moving honeytech.wordpress.com to honeytechblog.com. )

Step7
Now your WordPress.com blog is successfully mapped with new domain so you need to change the NAME SERVERS again to the old one. In Step4 you already note down the old NAME SERVERS !