How To Split, Merge and Manage PDF Files Without Trouble?
Today there are more than 300 Millions PDF files on web and the number keep increasing since the love for eBooks and portable device goes popular. PDF format is especially designed to sustain with today's fast-paced and vastly demanded world of task. Some of the notable advantage is that it is – compact & small, securable, scan books, insert pictures, can be used across any platform and so on. But most important reason why we love this format is because creating one is simply possible in few clicks. Apart from being reliable the format also severs well for reading and sharing documents in effective way. However there was always a need for a splitter to split huge PDF files in to single pages or even merge them to bigger file to make most out of this format. So, for all PDF lovers we have a solution called Gios PDF Splitter and Merger.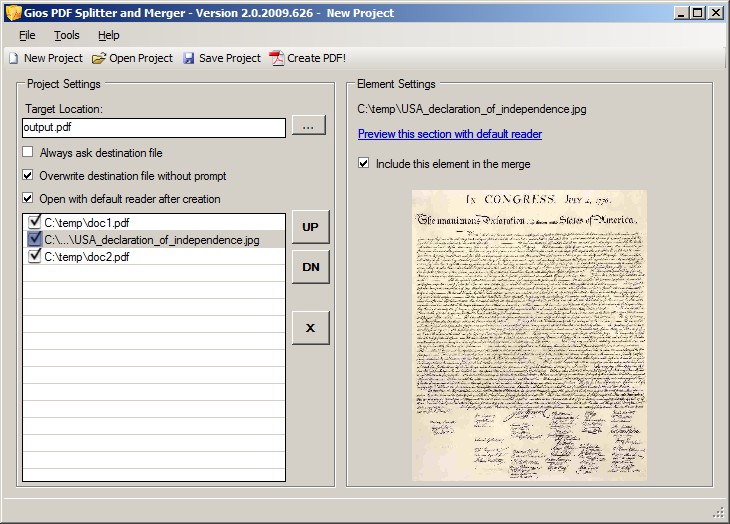 Gios PDF Splitter and Merger is a powerful, user-friendly, handy yet small tool that help you split PDF files into individual page or merge multiple PDF files without trouble. This PDF tool is developed to offer you quicker and more competent access to required information from your PDF files, reordering them in a way that makes them simpler to run and handle. In fact, it is the first ever free open source PDF split and merge utility written in C#. Gios PDF Splitter And Merger is released under LGPL license, so you are can access it as long as you desire and it is as well portable, so you away from installing trouble.
The app is easy to understand and is divided into two major panels –
First panel on left will permit you to adjust the "Project Setting" and let you browse through local files on computer you wish to run. Further you are free to select location for your output files and access features available. Always ask destination file, Overwrite destination file without prompt, Open with default reader after creation are some among features that can be enable or disabled.
Second panel on the right will let you edit and view "Element Settings". Here you can view file path with your image viewer or with default reader. Further you can select "Include this element in the merger or not" option by clicking on the checkbox. The exciting feature is that it allows you to check out number of pages in the chosen PDF file or preview of the image selected. Including all pages in conversion run or a handful is up to you.
In other words, all you need to do is add files, click on merge or split, select location for output and Gios PDF Splitter and Merger will do the rest. Your files are automatically saved to specified location once the process is completed. Also try out drag and drop option to save time and make the task even simpler and faster. This 150KB tool is certainly exciting and useful interface ever designed to support PDF. There are a lot of possibilities for making use of Gios PDF Splitter and Merger. We are sure you could think of a situation where this one will be helpful!