How to update your blog to wordpress 2.7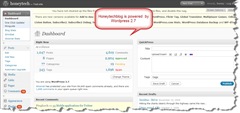 I'm using the latest wordpress version on this blog and i think you all hear about the new release of wordpress 2.7 and may know that this is the biggest change in the wordpress ever release.The best observance about wordpress 2.7 is its new eye catchy look with a butter scotch interface and designs.So in case you haven't upgrade your wordpress to the latest version (wordpress 2.7) due to lack of technical guidance then here is the 8 simplest and safety proof steps :
First of all take a healthy BACKUP of all your database and files.
De-activate all your

plugins

in order to avoid contravenes with the

wordpress

2.7 systems.You can simply activate them after the upgrading process.
Download a fresh copy of

WordPress

2.7
Simply extract the

WordPress

2.7 files on the server or into your
What to upgrade? Backup your

wp

–

config

.

php

file (its for the safety issues Warnings: Do not touch your "

wp

-content" folder.You can easily replace or delete your rest of files like

wp

-includes,

wp

-admin.
Now after upgrading files

login

into your account i.e

yourblog

/

wp

-admin/.After  this you'll automatically asked for database update.
Now you'll be automatically asked for the upgrading the

wordpress

and that over.
Don't forget to activate your old

wordpress

plugins

.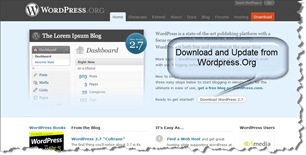 If you are not into so much geeky stuff i would like to introduced  WordPress Automatic Upgrade plugin (thanks to Ronald Huereca and Keith Dsouza ) which will  allows you to automatically upgrade the wordpress installation to the latest version (wordpress 2.7) provided by wordpress.org using the simple 5 auto guided steps.
In case you don't want to be in hustle i'll recomend this plugin to all my users.
Note: In case you have any isuues in upgradion or have some problem after updatin to wordpress 2.7 then feel free to discuss via comments.I'll try my best to resloved each of your queries.