imo.im supporting Skype and Introducing Voice, Video Capability On All Networks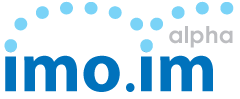 imo.im a free online service which connection multi-protocol instant messaging service to one networks and this service co-founded by ex-Googler Georges Harik. The aim of the service to make your life easier by communication and it's supporting voice, video, text chat capabilities in most popular messaging protocols. Still it's on beta version but it's supporting MSN, Yahoo IM!, AIM, ICQ, Google Talk, MySpace and finally Skype enlisted.
Now imo.im offer langages which supporting Spanish, Portuguese, Russian, Italian, Macedonian, French, Turkish, and more. And new features list are given below:
Star favorite buddies for easy reference
Upload and view buddy icons
Search for offline as well as online buddies
Change how a buddy's display name appears in the contacts list
Move buddies between groups
Block and unblock buddies
Set yourself as invisible upon login
Voice and video chat with anyone
Why would you want to wait till you are out of school to unblock mysace? You can do it easily with a myspace proxy. Its pretty handy to have around if you need to do some unmonitored surfing.
imo.im supporting Skype and Introducing Voice, Video Capability On All Networks - http://u.nu/7i93
imo.im supporting Skype and Introducing Voice, Video Capability On All Networks http://bit.ly/CQjDg