How To Integrate Facebook In Firefox Browser
There is no ifs and buts about how interesting Facebook is, but once you enter the world of this social-networking you will probably be a bit besieged with great entertainment methods, social events and interest groups it carry. So obviously you would want to enhance the experience and access it fast from anywhere. That is why, we have cute little tools such as Facebook Toolbar that can be integrated with your Firefox browser and stay up-to-date with latest Facebook activity just on the go while browsing website of your interest. In other words, if you have this excellent toolbar installed in your browser, you will never miss any friends request, pm or event invite at your Facebook account, while at work or in middle of anything.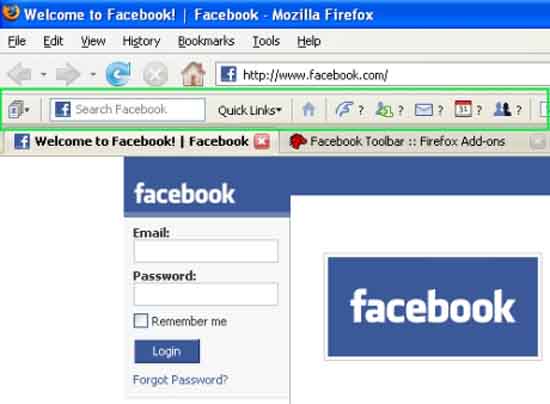 Interesting Features of Facebook Toolbar
Facebook Toolbar integrates the facilities offered by your favorite social networking website into your browser.
Search Facebook from anywhere
The Search Box allows you to easily search Facebook no matter where you are. Select a friend from the dropdown to go directly to their profile, or hit "enter" to see the search results.
Get Notified
Icons on the toolbar tell you how many new pokes, friend requests, and messages you have. A pop-up will notify you when your friends update their statuses, write a new note or interact with you on Facebook.
Connect with Friends
Click the icon to open the Facebook friends sidebar. You can sort your friends by name or status and easily interact with them and their profiles.
Share Content
The share button lets you share the page that you are currently browsing by sending it to friends or posting it to your profile.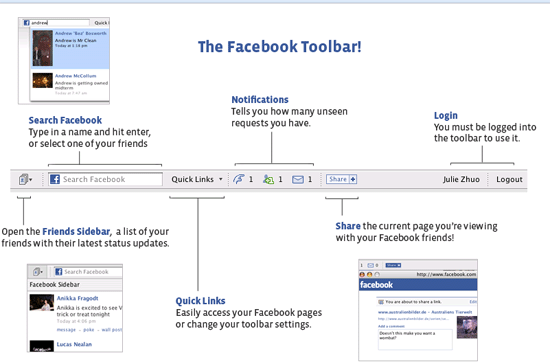 Look and feel
Once the toolbar is installed, you will notice a tab opened that will visually explain how elements in the toolbar works. The chief elements from Facebook Toolbar are – Search option, a drop-down menu having, Quick Links, Home, Five Notification Buttons, Share and Login. Further you will locate a small icon facing Search option, which will offer you to hide or open Friends Sidebar.
In case you are already login at Facebook, the Sidebar will show list of friends that are online. For each of your friends you will have few details such as profile photo, name and date of last updated. Another interesting feature you will find here is quickly send your friends a message with options like write a message, post something on the wall or poke friend. Other options in the drop-down menu of "Quick Links" might impress you with Profile, Photos, Groups, Friends, Notes, Events, Privacy Settings, Links, Account Settings, Videos and Toolbar Settings.
Furthermore, you will have set of buttons on every browser's page namely Application, Share, Chat, Calendar and Notifications. The deal does not close here; in addition you will find a button next to Quick Links menu that will take you to Facebook Homepage. Here you can find number of unread messages and posts written on your wall.
How does Facebook Toolbar work?
As I told you there is a left side that offers information about your online friends, here you can open or hide the statusbar by clicking on script-like icon placed in search bar. You can next find out more about friend's status just by keying the name in search box. If you want a picture about the changes made in your profile go to Quick Links menu, here you have posts, short notes, new groups and account settings.
For events information that you have already joined in, click on events link that will give you description of past and future events. Obviously here you have details of event type, location, and guest and attendance status of yours. You can react whether you are Attending, Not Attending or Maybe just by hitting placed without visiting the event page. Also check out on your top-right corner, you will locate search-for-events link that will help you create new events.
Accessing videos is a piece of cake, all you need to do go to Quick Links and click on "Video" and you will find snapshots of every video posted by you and your friends on Facebook. The most interesting feature, which could actually simplify your work, is one that would let you update your Facebook status right from the toolbar. Edit applications page can help you change further settings.
Most important part of Facebook is certainly uploading pictures and this toolbar will help you create a new album or even edit the present one in few clicks. Finally your Facebook toolbar also allows you to edit the Notifications page, which offers you actions that needs to be taken. For example, when you receive a new message, when someone write on your wall or any event invite.
Conclusion
We at Honeytechblog think that Facebook Toolbar is a cool tool and is highly recommended for any user. Even if you already know how to play around with Facebook, this add-on will certainly help you make your work quicker and organized. This user-friendly tool can no doubt will be of fun and help you save time, by maintaining your favorite social network uninterrupted even at work.
Although Facebook Toolbar is here for quite some time, there are many users unaware of it. With that in mind this review is been written. We hope the information was useful to the readers and do share your experience working with Facebook Toolbar with us via comment.