Interview : HYPick – hype a topic

HYPick is residential area ( community ) of enthusiastic souls of interchangeable opinions.The HYPick community features of speech and hottest stories among peoples of similar social circle.
Today we have Oren Todoros Co-Founder of HYPick in an online interview.
On asking about what makes to choose the name "HYPick"? Do you have any other names in the mind while choosing company names? Oren says
"The concept behind HYPick sort of started with the name, I spent a while thinking of short unique names which weren't already bought and the word Hype kept coming to mind, it was somewhat inspired by Yahoo Buzz. I also had a basic idea of the type of side I wanted to launch, something that lets users Hype what they're into, a site that would allow bloggers and content creators to post their work and expand their audience.
The name HYPick jumped to mind, thinking users can hype topics by picking them. HYPick"
Following is an excerpt of the interview with Oren: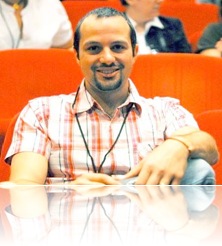 Oren Todoros
Tell us about your team members. Are you planning to include some more work-force at present?
As I was thinking about my idea, I started talking to everyone I could to get a feel of who would most connect with the project and who had the necessary skills to make it happen. Let's not fool anyone, my web development & design skills are close to nonexistent.
I needed a professional I could work with as a partner. I was introduced to a Hilton Sher who agreed to come in as a partner and lead the development of HYPick.com.The team that made HYPick come to life consists of 3 individuals Oren Todoros Co-Founder and social media strategist, Hilton Sher Co-Founder and Senior Web Developer and Adam Gitin, Web Developer.
In general, the web world is too crowded. How do you think a site like Hypick has a chance to make a splash?
The world is crowded and in a crowded world there are 2 things you can do.
1. Be the absolute best in your niche, be the definitive website in your field.
2. Be the biggest most over the top cash funded site. (Which we aren't)
That left us with option 1, the impact that HYPick will make is by being a definitive discussion site to post information with others while sharing links, images, vids and stories from all other websites or by letting you speak your mind.
How would you defined user generated content and self generated contents?
One of the most important factors we want to achieve with HYPick.com is allowing users to control what they believe is newsworthy, what speaks most to them. We'll jump in and give our thoughts on it as well, or spark up a conversation but it's really all about user generated content. We couldn't make up half the stuff they post about even if we tried ?
As for self generated content, it definitely needs a dedicated team, or someone who really doesn't need very much sleep, to produce a site that's updated with the latest news. We prefer to give our community the platform to build on.
What are your views on social industry and engaging right audience?
The social industry is extremely diverse. From tech bloggers, to wine lovers, to sports, health, all the way to the adult industry, we're sort of all dependant on each other for our work to be effective. We learn from each other's mistakes and successes. The beautiful thing about social media marketing is how quickly you can judge success. Engaging with the right audience is about being available, allow yourself to connect with different industry experts to succeed by cooperation.
How did Hypick is different from simple "forums"? What are it focused features?
HYPick promotes topics to the homepage based on participation. There are countless sites that work on a good vote, bad vote ranking system. That clearly isn't enough. We wanted to create a site that features stories based on what people are really talking about, what do people have a strong opinion on? Focusing on an opinionated audience builds up interest to the submitted content.
There are 2 ways to participate.
The 1st is by submitting your say into any one of the 10 categories such as Random, News, Sports, Health, GeekSpeak and so on… You're free to talk about anything or ask about anything that's on your mind.
The 2nd is by utilizing our Icon on your content pages. The HYPick Icon allows your readers to submit your content and link into any one of the relevant categories and launch a whole new discussion around it and always linking back to your site.
Is Hypick is self financed?
Yep it is at the moment, self financed, powered by passion and a couple of shots of southern comfort.
Where do you see Hypick after twelve months and how do you propose to do it?
Since HYPick just launched, it's constantly evolving. We're getting a deeper understanding of how our audience would like to utilize our site just like we're thinking about the second phase of features. We're very focused on building our members base while increasing exposure to HYPick. In 12 months from now, I believe HYPick will have made a significant impact to be a leading online destination around the top hype.
How do you plan to monetize Hypick? Content licensing/Ads…? Partnerships?
We're going to be auctioning off our 1st born babies… We thought it would be an original way to build up income. What do you think?
What's the biggest surprise you've had in the business recently?
We've been invited to speak at events such as TechAviv.com and Interviewed by LuckyStartups.com. It's not really a surprise but we're always very thankful when the online community supports us in any way.
What challenges do you see for your growth?
Our challenges are very much the same as a full scale operation, time, money, resources… But since we started with an idea to fill a gap that we feel was missing in the social industry, we know we're moving in the right direction.
Oren also told us that he have few extra features for Publishers and the bloggers, he says "For publishers, we've developed a little Firestarter to help content reach a whole new audience, the HYPick Icon.
By pasting our Icon within your content pages, your audience can take your stories much further. All stories shared from your site are link back to you. Because HYPick's community is passionate about having their say, an entirely new discussion is created about your content. We don't decide what the stories or top stories are, our community does."
Wishing a bright future and good luck to HYPick from Honeytech Blog