M-Indicator: The App For Mumbaikars
When you belong to Mumbai, you know that travelling is a big time problem. Everyone lives in a jiffy and running behind the fast tracked life has no time for everyone. There are so many places that you would want to visit and though there is good transport facility there are many timetables that you need to follow for each one. Holding an Android phone in your hand is a very smart thing in such a situation. M-Indicator is one app which sets things easy for you. The application tells you about train timetables, bus routes and auto and taxi fares. All this information you get just on your device very easily and the best part is without a GPRS system activated.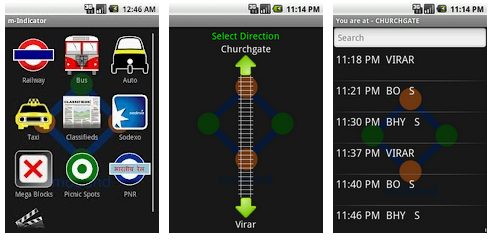 There is definitely more to this. The app also provides with nearby picnic spots, movie shows availability and Sodexo outlets locations. There are mega blocks in Mumbai for the railways. The application also fills you in with the information. The bus timings and routes are specific and you just need to fill the app with the destination you want to head and your current location. If you are unaware of the auto or taxi fares you can check them with the kilometers on the meter. For railways you need to provide the location and get the directions or purvey directions and get the exact timings for the trains. Living in Mumbai if you have something like this handy you have nothing else to worry about. All you need you get it right on your device. It can be called The app for the Mumbai people. Mobond has done a brilliant job by bringing in this absolutely genuine and beneficial application.
The application is found absolutely free in the Android market or Google Play Store. If planning a trip to Mumbai, this app is something which you might find very handy and advantageous. Happy travelling!