Make Money On Twitter With SponsoredTweets
I define Twitter as no frills, no annoy mini-blogging tool that's truly catching on. Twitter is on top when we talk about social media activity and as a matter of fact it is our favorite social networking sites. You can use Twitter as personal or business purposes and I must say many people are making huge income out it. But how? By now, we have seen various ways to make money on Twitter and now the buzz is about SponsoredTweets.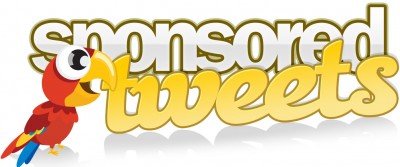 What is SponsoredTweets?
Sponsored Tweets is a new Twitter advertising platform that connects advertisers with tweeters. Advertisers can create sponsored conversations on Twitter. Tweeters can earn money for spreading the word. It is an online market place created by an Orlando based company called Izea to let advertisers to buy sponsored conversation on Twitter. Check out an overview of SponsoredTweets Here.
How does SponsoredTweets Work?
You certainly need a twitter account first to sign up with Sponsored Tweets. It can do wonders if you have more number of followers (I suggest at least of 500 followers to start with). Once you have decent followers go visit the site and sign up with your twitter account detail. You are free to set up your own price, keywords and category; further select to accept offer from the advertisers so that your account it created in 24 hours. Be careful while setting up price per tweet, because this is a competitive marketplace and you are competing with others for advertiser dollars. Set your price too high and you might jolt advertisers away, too low and you might be short changing yourself.
You will soon start receiving new opportunity for tweeting and you can approve or deny them. Some advertisers may prefer to write what they want to display, but many desires tweeters to write tweets their own creative way. Then you need to submit your "Tweet" for approval, upon approval you get your money deposited. You are eligible to withdraw once your account reaches $50. It's an outstanding way to make money online for the passionate Twitter user.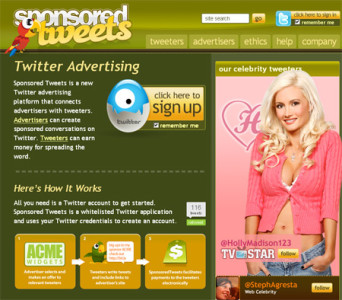 Is SponsoredTweet Ethical?
This platform is allowed by Twitter and is 100% Ethical. They have worked with Twitter while building up the site and for being ethical there is 100% mandatory disclosure. Any tweet will be sent through Sponsored Tweets will display "sponsored by abc "Ad", or "brought to you by xyz". Everyone is required to disclose every sponsored tweet. You need not even worry about your login info as it passes through Twitter's OAuth Process and is safe. Do read their FAQ page before signing up.
Sponsored Tweets is definitely not the first service to make money with twitter, but note that this is the most go-getting and best funded service. You may ask how much money I can really make. Then it actually depends upon who you are and how often your advertisers desire to work with you. It is an open and transparent platform offering advertisers with a directory of tweeters that they can engage along with stats about tweeters. Advertisers have the ability to easily look at your tweets and determine if they want to do business with you. While numbers are important, credibility, quality and reasonable pricing are more important.
Sponsored Tweets were actually launched with bunch of big Twitter Celebrities like Holly Madison, CarrotTop the Comedian, Bethenny Frankel the Celebrity Chef and Author, Kendra Wilkinson the TV star to name a few!