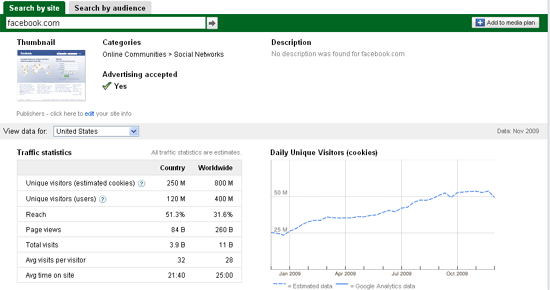 With over 350 million users, Facebook is definitely huge and there are not many sites dare to compete with it. Another interesting thing about Facebook is the page views it serves each month. The number might surprise even the major optimists, as this social network gets about 260 billion page views monthly. The number actually comes from Google's "ad planner" tool, which is good at estimating statistics for most of the sites/blogs.
The data may not be just perfect, but we can certainly figure out how far ahead facebook is from everyone else. The tool might offer various metrics for other sites, but fail offer the estimates of Google.com. On number two we have Yahoo.com that serves 70 billion page views and on third we have Microsoft.com with 36 billion page views. The entire chart does have other interesting data such as Unique visitors, Reach, and Total Visits.
All such data might just be estimates, however we get a clear picture that Facebook dominates and it would only augment its leads in near future.
Honey Singh
is designer by taste & Blogger by hobby. Foursquare, Twitter and Facebook buff! You can always reach me at honey(At)honeytechblog.com. If you have instinct you can explore more on my social profiles
You can follow any responses to this entry through the RSS 2.0 feed. You can leave a response, or trackback from your own site.