If you don't know about 6rounds then have a look over the year old review published on techcrunch. In short it is a flash-based social entertainment platform that challenges traditional video chatting methods by creating a beautifully designed, simple to use, and user friendly platform. It offers people a real place to meet, video chat, collaborate, feel close to one another, and to have fun together. By combining webcam chats, interactive activities and real-time games, 6rounds has managed to bridge the gap between the offline and online worlds in an entertaining, playful, fun and friendly experience.

Google Wave Extension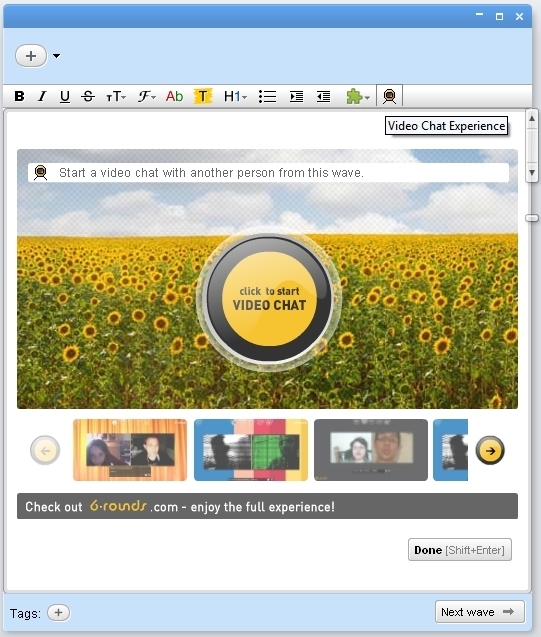 There were lot of buzz after the launch of Google Wave and guys gone crazy for wave invites. Last year 6rounds was in the list of first six Google Wave extensions. Till now it is the only video chat extension available on Google wave directory.
Google Wave extensions of 6rounds includes features like  live snapshot stream containing snapshots taken from sessions within all waves. In addition, 6rounds was invited to participate in Google I/O this week, where it will be announcing the launch of its developers API.


What is the turning point in Developer API
6rounds claims the developer API to be the game of 15 minutes. The best way using 6rounds simple API, developers can quickly and easily transform their existing social activities and games into 6rounds video chat experience, or create new inspiring applications, within a mere 15 minutes.

Ilan Leibovich (Co-Founder and COO, 6 rounds) states that:
Typical social activities are focused primarily on an asynchronous experience. 6rounds finally changes this
Gadi Srebnik, VP Product Director of 6rounds says:
As developers ourselves, our focus was to create something that will speed up the development process and concentrate on game functionality instead of platform boundaries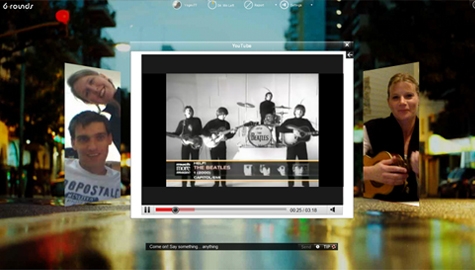 6rounds Video Chat Experience – Google Wave Extension Demo
Short Glimpse of the Video Experience
Last but not least developers are invited to create real-time multi-user rich activities through 6rounds API. If you are a developer then you should look into 6rounds Leaflet for Developers (211)
Honey Singh
is designer by taste & Blogger by hobby. Foursquare, Twitter and Facebook buff! You can always reach me at honey(At)honeytechblog.com. If you have instinct you can explore more on my social profiles
You can follow any responses to this entry through the RSS 2.0 feed. You can leave a response, or trackback from your own site.