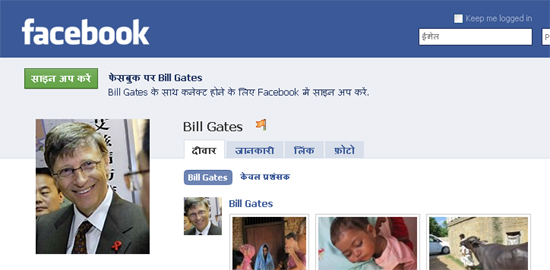 Microsoft Co-founder Bill Gates is not new social networks, yet he just opened two new accounts at our favorite Facebook and Twitter. Although he had an account at Facebook earlier, but it was getting tough to stay connected with so many people, so he chucked it. But this time he made this decision to rejoin these social networks in order to be get connected to the relief work going on Haiti. For Bill these are the some of the top medium to encourage donation for the good cause.
The surprising thing was noticed by thenextweb – when it first saw Bill's account it had 91 followers and now he has about 113,000+ followers and 3,430 listed in few hours with just 5 tweets made. As a quick note, Bill's account does now bear the official "Verified" badge. And even Facebook has confirmed that the account is real.
The latest tweet of Bill says –
Thanks to you and all the other people who have welcomed me. I've got a lot to learn about Twitter but look forward to sharing more.
His account on Facebook is a Facebook Fan page so this time he would not feel uncomfortable working around. And we hope experiencing Twitter would help him achieve the motto to help Haiti victims.
Honey Singh
is designer by taste & Blogger by hobby. Foursquare, Twitter and Facebook buff! You can always reach me at honey(At)honeytechblog.com. If you have instinct you can explore more on my social profiles
You can follow any responses to this entry through the RSS 2.0 feed. You can leave a response, or trackback from your own site.