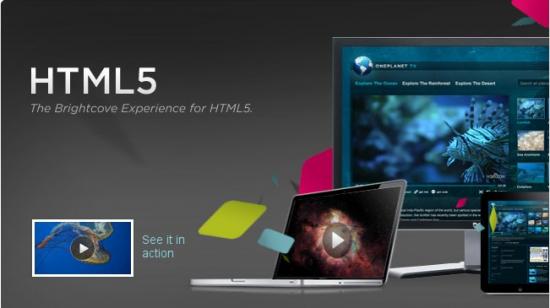 HTML5 may not be the latest technology available, but for sure it is a great help to web apps and functionality online that is now available for web developers through a standard and non-proprietary technology. And of late we also saw W3C Release Seven Important Document On HTML5 to help web masters and Google is getting closer to HTML5 standards. Now entering Brightcove, which might not be familiar to all, but this company offers web-based streaming video for many esteemed clients, such as The New York Times, Time, Condé Nast, The Weather Channel, Universal, and many more. Brightcove has just announced that it's launching a video player based on HTML5 specially to bring compatibility with the iPad, iPhone, and iPod touch.
According to Brightcove website -
HTML5 helps website owners harness open standards to deliver video content to devices, such as the Apple iPhone, iPad, and iPod Touch. However, organizations attempting to deliver HTML5 video experiences are struggling with knowledge gaps, technical limitations, and additional development costs that can make it prohibitive to deliver HTML5 video experiences in parallel with other approaches.
Unlike the Apple devices, Android does support Adobe Flash. Brightcove says this move would make sure that no user is left out and that its customers are able to reach their audience in spite of the device they're coming from. The move may be brilliant, but point to be noted is that it concentrates on Apple devices that do not have Flash Suppot. However, Brightcove says it's working on to bring HTLM5 video player on Flash-based as well.
Honey Singh
is designer by taste & Blogger by hobby. Foursquare, Twitter and Facebook buff! You can always reach me at honey(At)honeytechblog.com. If you have instinct you can explore more on my social profiles
You can follow any responses to this entry through the RSS 2.0 feed. You can leave a response, or trackback from your own site.