Google is always keen in improvising its search algorithms and try to test various ways to make its product (Google search) best out of others (in reference with bing search , yahoo search). Caffeine is very old project of Google that is planned to redefine the Google indexing of websites and blogs. Its designed to understand the new age content and push the indexing for semantic contents.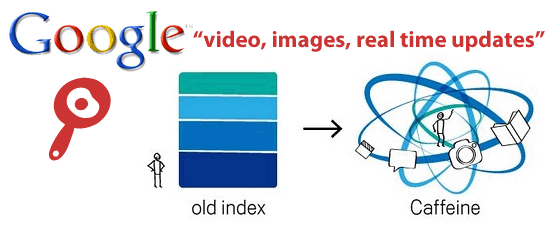 In an official post, Google announced the launch of new search index devil named as Caffeine. In a statement Carrie Grimes, (Software Engineer at Google) stated that
Today, we're announcing the completion of a new web indexing system called Caffeine. Caffeine provides 50 percent fresher results for web searches than our last index, and it's the largest collection of web content we've offered. Whether it's a news story, a blog or a forum post, you can now find links to relevant content much sooner after it is published than was possible ever before.
What is the reason behind the launch of Caffeine
The main reason for Caffeine is to equipped the Google search with realtime and ignored contents. It includes the fast and growing contents like video, images, news and real-time updates at blogs.
Google itself stated that:
So why did we build a new search indexing system? Content on the web is blossoming. It's growing not just in size and numbers but with the advent of video, images, news and real-time updates, the average webpage is richer and more complex. In addition, people's expectations for search are higher than they used to be. Searchers want to find the latest relevant content and publishers expect to be found the instant they publish.
Extra Dope: Google's Matt Cutts on Site Speed and the Caffeine Update
Honey Singh
is designer by taste & Blogger by hobby. Foursquare, Twitter and Facebook buff! You can always reach me at honey(At)honeytechblog.com. If you have instinct you can explore more on my social profiles
You can follow any responses to this entry through the RSS 2.0 feed. You can leave a response, or trackback from your own site.