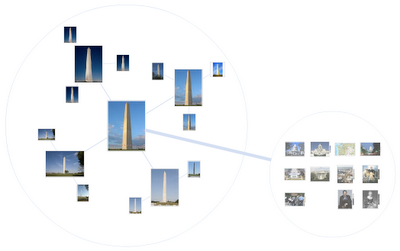 To narrow our search on images we recently had "Similar Image" feature introduced by Google. But for those this feature did not help and were looking for more relevant result from Google Image search here is a savior. The giant yesterday exposed a new Google Labs experiment that collects similar results together and displays them in bubble-like groups, or you name it swirls. In case you do an image search for "India", the first image will be India map and then flag. While clicking, it would "swirl" open into an image circle.
Aparna Chennapragada and Yushi Jing wrote in the blog post,
Image Swirl expands on technologies developed for Similar Images and Picasa Face Recognition to discern how images should be grouped together and build hierarchies out of these groups. Each thumbnail on the initial results page represents an algorithmically-determined representative group of images with similar appearance and meaning. These aren't just the most relevant images — they are the most relevant groups of images.
Presently Image Swirl works for more than 200,000 queries and Google will incorporate more among these. Google images acts as good tool for children's  for creating greeting card , bloggers to include the relevant images in blogpost and researchers for their reports. Now Image Swirl have its own advantage over simple image search. The feature is live, so go ahead give it a try!
Honey Singh
is designer by taste & Blogger by hobby. Foursquare, Twitter and Facebook buff! You can always reach me at honey(At)honeytechblog.com. If you have instinct you can explore more on my social profiles
You can follow any responses to this entry through the RSS 2.0 feed. You can leave a response, or trackback from your own site.