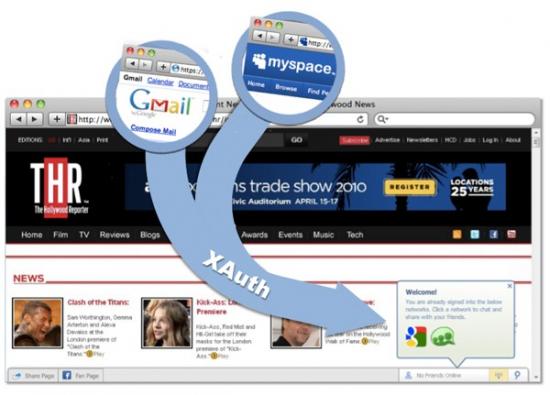 Today, web is all about social materials and every participant is looking to extend its functionality for better usage. And the most common thing happens at these social networks is "sharing" – links, data, videos, status and everything else possible online. Among these Facebook made its way easier by introducing Facebook Connect – the easy login system, but now there is some competition from newcomers XAuth by Meebo.
According to ReadWriteWeb, there's going to be an announcement about XAuth sometime today from its consortium of backers/developers–a group that includes Google, Yahoo, Meebo and MySpace. RRW calls it "Facebook Connect but for every other social network" because it essentially works in the same manner as Connect does, but it's cross-platform, and has hooks into multiple social networking systems that you may be a member of. This is important because, lest you forget, Facebook isn't yet the 100% be-all and end-all social network, and others still thrive–here in Portugal, for example, many youngsters prefer Hi5 to Facebook, or at least have profiles on both.
XAuth.org website explains.
XAuth is an open platform for extending authenticated user services across the web. Participating services generate a browser token for each of their users. Publishers can then recognize when site visitors are logged in to those online services and present them with meaningful, relevant options
XAuth is actually an substantiation standard system, similar to OAuth, for instance, enabling users to log into any website that implements it with any account from a service that supports it. But it has more to offer, its real target, though the people behind XAuth are careful to dismiss that, is Facebook Connect.
On the other hand, where Facebook Connect works only with and for Facebook, XAuth is open to anyone. The idea is to have website owners execute just one protocol that would then act just the sharing and login options applicable to a user. It would further also enable sites to share information in the background, even things like friends lists and all sorts of other data. This not only opens up a ton of functionality, but also a lot of potential privacy issues.
Honey Singh
is designer by taste & Blogger by hobby. Foursquare, Twitter and Facebook buff! You can always reach me at honey(At)honeytechblog.com. If you have instinct you can explore more on my social profiles
You can follow any responses to this entry through the RSS 2.0 feed. You can leave a response, or trackback from your own site.