Check how New Orkut follows the Facebook
Now every one knows that orkut is lagging behind rival social networking sites like Facebook and twitter. Facebook recently updated many features and adopt the basic functionality of twitter like status updates. Now Orkut follow the facebook and adopt the similar look but still lacks the synchronous status updates as in Facebook. Moreover Facebook enhanced with new applications, feeds features, different prototypes and most important the features of Publishing to Twitter from Facebook Pages. More over they have open api and lot of open option to build things on facebook. Is Orkut learning anything from Facebook? (perhaps yes !)
In order to fight back Google enhanced many features in new orkut but they seems to be cloning from facebook. Here i pointed out following two points:
1.New orkut have "Fewer pages, faster browsing" which is expected to be cloning of facebook lite (chek out the screen shots of facebook lite)
2. The targeted friend suggestions is expected to be cloning of facebook friends suggestions
Screen Shot of my New orkut Page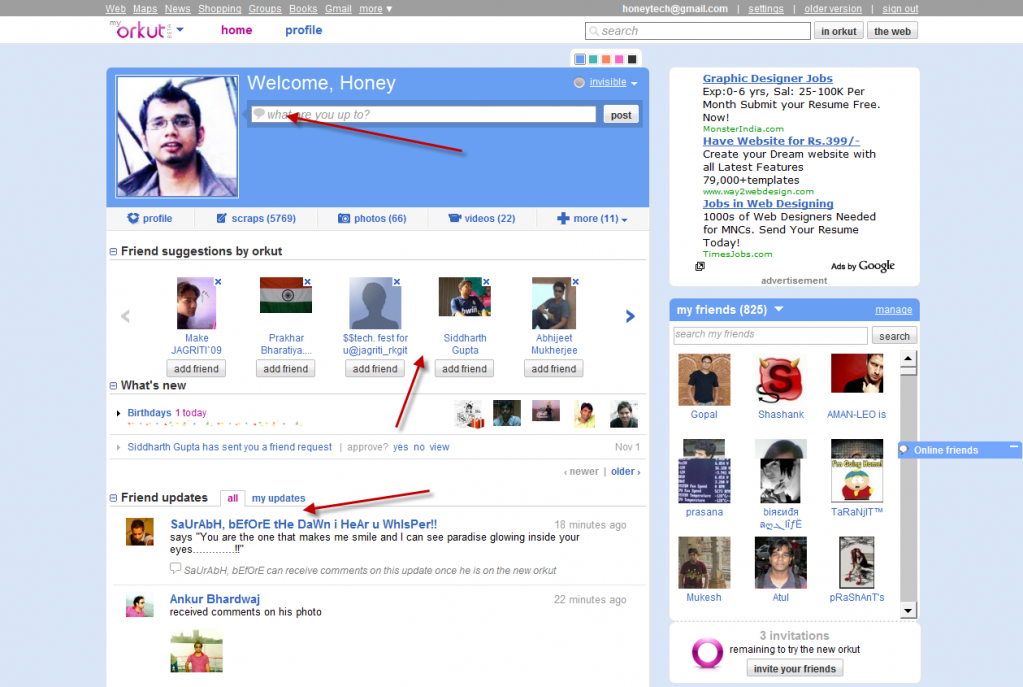 What i liked in New Orkut?
In new orkut i liked the options to customize the profiles but still i'm missing the fanpage, FBML and applications of the facebook.
What i disliked in New Orkut?
I didn't like the typography and UI of the new orkut as compare to previous versions. New Orkut is still in early phase and expected for the open api and better features.