A News Look For Google AdSense Ad Unit Layout
Google AdSense is one such program that every web master loves and now the search giant is adding some spice to it. Google has just announced to revamp some of the AdSense ad units by launching a new layout that will make them easier to read and understand. It may sound like a usual do-up but for sure this change will make the ads stand out along with making the actual info simpler to spot up.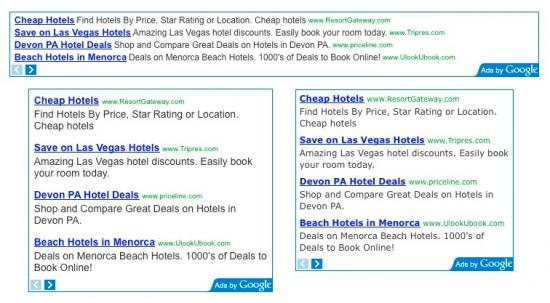 Amy Wu – AdSense Product Manager at Google says –
We're excited to announce a revamped design of three of our AdSense for content ad units! After analyzing publisher site layouts and reviewing requests around the world, we decided to make our formats more space-efficient and visually pleasing by changing the layout of the text,

We spent a lot of time experimenting with different possibilities, and we're starting with changes to the following ad units: Leaderboard (728×90) – the title, description, and URL are now arranged in rows instead of columns (except in the case when only one ad is showing); Medium and large rectangles (300×250, 336×280) – the URL is now in the same line as the title," she explained.
Further interesting to know is that redesigned ad units performed extremely well during testing. That's reason Google planned to introduce them. Of course you can trust on Google when it comes to testing and yes it does carry lengthy process. You can find new ads rolling out in next few weeks.
Has anyone actually seen the results? They are hideous and spoil the aesthetics of any website.
[....] Its a really nice and beautiful application, i opened it and enjoying so much. Thanks for providing such a good stuff.[....]
This is really looking Good. Many Wordpress blogs are using same ads using some adsense plugin.