Once Again Get Free AVG LinkScanner Security Suite
LinkScanner an independent plug-ins for windows based Firefox and internet explorer user. AVG Technologies' AVG security suite – they implementing link scanner in Yahoo and Google search engine. After the installation of AVG.exe files, it will show green flag and red flag indicators with each links. Red indicator flag brings something dangerous or harmful, other hand, Green flag brings good for you. In every search results it will confirm you and show you the scanned reports on basis of your clicks on icons.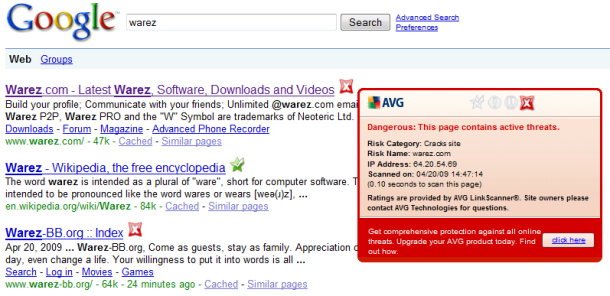 Hovering over a flag will pop open a window that provides further details about the link. Green flags will show you the IP address, the amount of time the scan took, and the date and time of the most recent scan. Red flags highlight the same information, as well as the risk category and the site name. Attempting to click through to a red-flagged page will take you to a warning screen that repeats most of the red-flag information–AVG calls this the "Active Surf-Shield". — says Seth. However, lots of confusion about this stands alone software as because of sometimes it's showing red flag symbol which is actually a good websites. Even, we know Google and Yahoo both search engine showing alters which site is good or dangerous or harmful for the users.
McAfee's SiteAdvisor another one anti link scanner but free version of AVG link scanner achieved more popularity who has random web surfing habits. When you have this software — you may try Google search to make sure that "is it good or bad websites" and Google has great accuracy on security.