New Opera Mobile for Android with Flash Support [Hands on Video]
Today Opera updated its android version mobile browser with new features and flash support. Here is the hands on video showing the new settings options and flash support in the samsung galaxy tab.
Hands on Video of Opera Mobile Browser (Tested on Samsung galaxy Tab)
Updated features of New Opera Mobile for Android
1. Opera Mobile for Android have Adobe Flash support
2. It have Support for CSS @viewport
3. Opera Mobile for Android is comparatively faster and smoother panning and zooming
4. It have improved text-wrap on zoom
5. With new Opera Mobile for Android you can enjoy Smart-tap: auto-zoom and you can also highlights links if ambiguous link click.
6. Click-to-play, load Flash content on demand only
7. JIT for greatly improved Javascript performance
8. Opera Mobile for Android can remember tabs from previous session
9. HTML5 Audio/Video
10. Application Cache
11. WebStorage and WebDatabase
12. DOM touch and multi-touch events
13. Opera Mobile for Android have new UI for tablet devices(see video for demo on samsung galaxy tab)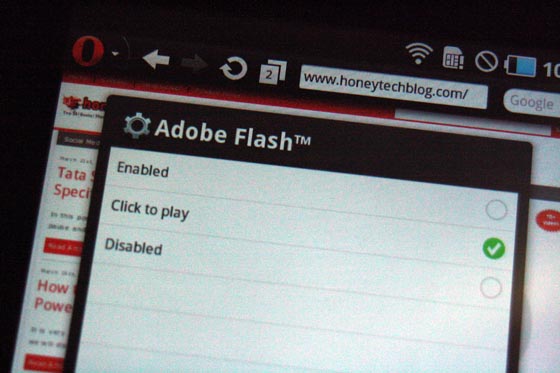 Well this is definitely a awesome update from Opera. I love to use it.