Pros and Cons of top 10 web / internet browsers
A web browser is been used by millions of people each day for research, online shopping, communication, and entertainment. In other words, it is a software used to access World Wide Web. Today, the technology has moved beyond NCSA Mosaic to IE, Firefox and more to come. However, many might not know about the options available for web browsers, they stick to Internet Explorer as it comes pre installed with Windows. Up-to-date web browsers can fetch you with enhanced and simplified browsing experience. These days' web browsers are equipped with excellent features such as RSS feeds, tabbed browsing, widgets, add-ons, voice interaction and much more. Do remember, the better your browser would be, the more you will enjoy surfing. Even though we have already seen top 10 web browsers earlier this list is been prepared to give you in detail information about their outstanding features, pros and cons so that you make a wise choice picking the best!
– I would rate Google Chrome as the world's largest and powerful web browser among all. You can claim Speed, Simplicity and Compatibility all under one roof with Google Chrome. With the inception last September it offered download only for Windows Vista and XP, however it has now expanded to Mac and Linux platform too. I love everything about Chrome so far and also looking forward for more innovations for the browser in near future.
Outstanding Features
Thumbnail images of your most visited sites
Drag, drop and rearrange tabs
Excellent task manager option
Pros
Process isolated tabs and add-ons
DNS pre-fetching
Neat page Search
Cons
Lack of add-ons when compared to the competitors
– Firefox is one of the most flourishing open-source web browsers of all time and gives pleasant working experience. Firefox offers sooner web browsing, enhanced tab handling, fresh interface tweaks and many other features with its latest 3.5 version. By having a look you may not be able to differentiate between the 3.0 and 3.5, yet the new version carries great speed for JavaScript performance and runs parallel to other latest browsers such as IE 8, Safari 4 and Opera 10 by incorporating private browsing mode.
Outstanding Features
Private browser mode
Open video and audio
Instant web site id
Awesome bar
Built-in spell checker
Customization
Pros
Faster JavaScript engine
Excellent support
Customization with themes and extensions
Cross-Platform versions for Mac and Lunix
Cons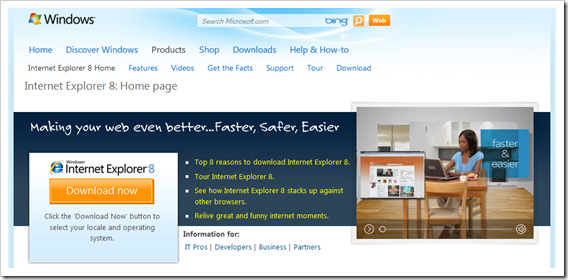 – Majority of people use Internet Explorer and for them IE8 is icing on cake. IE 8 is the closet competitor of Firefox 3 when compared with the browsing and productive features. However some features are notable of this browser such as Accelerators and WebSlices offering convenient and unique way to access web resources. Its color-coded tab system, address bar, and superior privacy protections are also remarkable.
Outstanding Features
Great tab management system
Compatibility view to support display problems
InPrivate browsing
WebSlices
Pros
Address bar provides autocomplete
Crash recovery
Fast startup
Flexible search option
Cons
Supports only Windows
Lacking download manager
– Apple's claims Safari 4 as the fastest browser globally. Actually, it beat Google's Chrome, Firefox 3, Opera 9.6 and even Mozilla's developmental Minefield browser. Depending on your computer's specs that may really be correct. However, if you require more than speed, Safari is not your just right choice. Safari concentrates on being trivial and non-flashy unlike other browsers that are more customizable. Hence the sleek interface is not very huge and the frame is only one pixel wide.
Outstanding Features
Spell checking for all fields
Snapback
Resizable text boxes
Pros
Speedy
New interface
Enhanced graphics
Cons
Lacking extension support
Lacking anti-phishing and smart toolbar
– Opera 9.6 aims at faster browsing, better synchronization and offering modern standards to its users. This Open Source Opera 9.6 has all enjoyable and practical features that can make your web journey functional and fun. Further this quicker browser offers faster loading web pages and great at running your preferred web applications. Basics of Opera would include tabbed browsing, mouse-over previews, a customizable search bar, sophisticated bookmarking tools, and easy integration with e-mail and chat clients.
Outstanding Features
Interactive voice,
Fast browsing
Thumbnail previews,
Mouse gestures
Customizing skins
Pros
Fast and lightweight
Carries unique features
Cons
Lacking widgets and add-ons
Flock
– Social networking is the buzz today and so the Flock "Social Web Browser". Flock is especially designed for social network savvy people and emphasizes how you interface with social networking sites, RSS and media feeds, and blogs. You can keep up-to-date contacts with your Facebook, Flicker, Twitter, MySpace and other using Flock. Flock definitely achieves its goal of being a great social web browser.
Outstanding Features
Social Networking Browser supporting e-mail, media, feeds, and blogging
Awesome bar
Spell checker
Pros
Friendly interface
Excellent tools to share photos, news, and more
Higher security
Cons
No support to major web services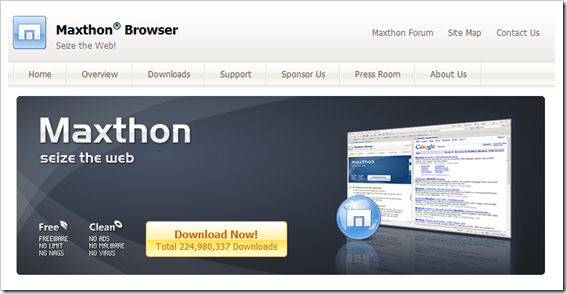 – Maxthon 2.5 is especially designed for people who love customization. This versatile browser can be fit to your web browsing requirements. Customization options comprise the security settings, the interface layout, and helpful plugins. Maxthon seeks to offer many rich features and a highly customizable interface, without losing any of the compatibility of Internet Explorer.
Outstanding Features
Easy to use and powerful
Flash, Java applet and ActiveX blocker
Automatic updating service
Pros
Great Customization Option
Supports many Internet Explorer plugins
Multi-user support
Cons
Lacks competitors features like thumbnail previews, a smart toolbar, and anti-phishing technology
– Avant Browser is a popular open source web browser, which unites the Trident layout engine built into Windows with an interface intended to be more feature-rich, flexible and ergonomic than Microsoft's Internet Explorer. It works on Windows 98 and above, comprising Windows Vista. IE 6, 7 or 8 must be installed. Avant Browser is highly inspired by Opera, the first major browser to have a multiple document interface.
Outstanding Features
User-customizable tabbed interface
Page zoom slider – 25% to 500%
Tab locking, duplication, and drop-and-drag arrangement
Pros
Compatible with many IE toolbars and add-ins
Multiple home pages
Fully skinnable
Support via email or user forums
Cons
Lacks parental controls and ability to synchronize
– Deepnet Explorer 1.5 is decent web browser with most of the standard features. This one includes IE based web browsing with incorporated P2P file sharing abilities and fixed RSS/ATOM news reader. The anti-phishing feature, in combination with other additions, led the developers to claim that it had a higher level of security than either Firefox or Internet Explorer. All-in-all an average web browser.
Outstanding Features
Spell checking,
Password manager
Automatic updates
Customizable Add-ons
Pros
Pop-up Blocker
Anti-phishing
Peer-to-peer facility for file sharing
Cons
Not as intuitive as other browser
PhaseOut 5
– PhaseOut 5 is an excellent multi-tabbed browser that carries cleanup control, pop-up blocking and flash skin manager. You get some really impressive looking graphics and customizable skins to your browsing journey. You might love PhaseOut for its revolutionary looks and graphics space.
Outstanding Features
Controller for full-screen navigation
Search tools
Photo mail
Pros
Customizable and tailored to easy surfing
Top Security Features
Cons
No password manager, feeds, or parental controls