RapidWeaver – Excellent Tool To Design Beautiful Websites In Minutes
Are you looking to create a blog to display your work? Or just out of passion do you want to share your thoughts? Website sounds like a cool option to share anything these days, but then do you really have the time to spend hours on learning the codes and graphics? Not everybody, so for the people looking for a quick and smart answer towards creating a website we have RapidWeaver as a solution.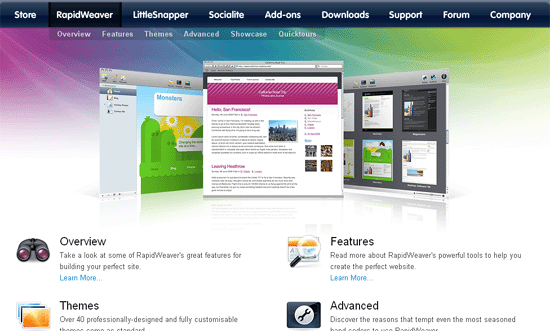 RapidWeaver is a next-generation web design applications to assist you easily create professional good-looking websites in minutes. It is a template-based website creation tool, from Realmac Software, and is exclusive to Mac OS X. You might have come across tons documentation before starting a blog or a website. But with RapidWeaver all you need to do is to download the application and start playing with it.
Interesting Features of RapidWeaver:
Offers clean, beautiful code that adheres to modern web standards.
Drag and Drop technology
CSS / HTML / PHP code inline editing
Powerful (and numerous) plug-ins
iPhoto Integration and Automatic Navigation building
FTP & Mac Publishing
Side by side, text and code
Lots of nice templates along with Flash Based Slideshows
Blogging with RSS Feeds and excellent Podcasting
Photo, Movie Albums and styled text
New version is compatible with Snow Leopard.
Scale & Rotate Images
Smart Publishing
How does RapidWeaver Work?
Well, working for this excellent app is very easy. You can choose following types when working on any new website project – Blog, Contact Form, File Sharing, HTML Code, iFrame, Movie Album, Offsite Page, Photo Album, QuickTime, Styled Text. For example, if you need to create a blog, all you need to do is click on "Add" button on the main page and select "Blog" as your option. Next give title for your blog by selecting "Save" option on file menu. To further change other elements of your blog such as caption, header, footer or other, you should open General Tab of the setup menu, where the options are available.
Advance option such as external links or other services such as Google Analytics can be added with the help of Setup menu. Next the very important part comes, which is adding content. If you want to add some text content, just type it in the top area of the right panel. The toolbar that divides this area from the Themes one offers you with buttons for altering the font, alignment, style, or the color of the text. It further comprises of a drop-down menu that is actually a shortcuts for adding titles, new paragraphs or subscripts.
Then you can choose from many themes that suits your blog best. Do a preview check before finalizing the theme. Further when you need to add images, you can use the excellent drag-and-drop technology and pull it from your desktop. Then of course you will be eager to know how does the website look with content and images, so click "Publish" and there you go.
Conclusion
Overall, it is very much possible to create a website in 15minutes with RapidWeaver, which is beyond doubt amazing. And the best thing is you don't have to be a HTML and coding guru to build your own blog here. Just by providing some standard forms and valid server detail you can complete the task. This user-friendly editor is well-suited not only to newcomers to Web design, but is also brilliant for small business owners who don't wish to spend a lot of time learning the tricks of Web design and development, in fact, even children can give it a try.